On May 28, 2023, week 20 of the 2022-23 Yogibo WE LEAGUE WE ACTION DAY, Chifure AS Elfen Saitama hosted an event titled "Hopes and dreams for the children's future!" At a sports facility in their hometown of Fukaya City, Saitama Prefecture, 30 participants – mainly junior high school girls who belong to a football club, and 27 players participated in two sessions: a "Let's play together session" and a "talk session (group work)."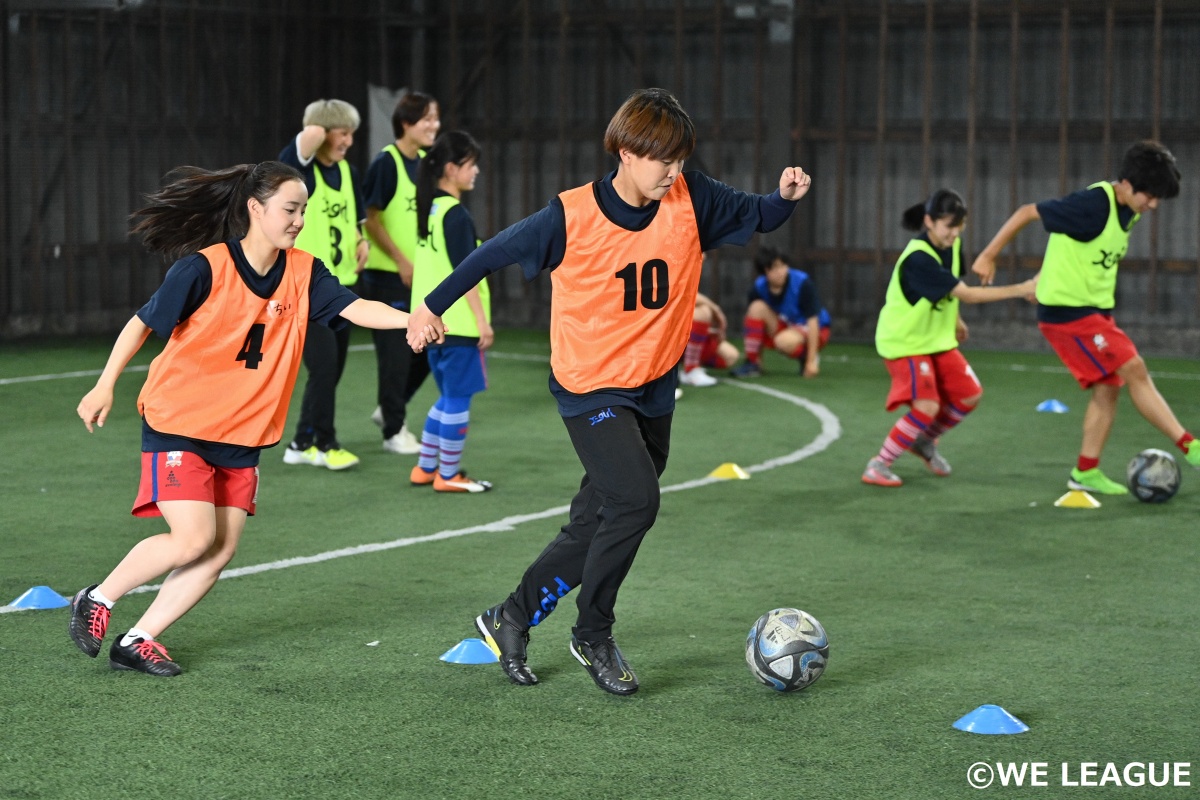 With matching T-shirts, they moved their bodies and enjoy football
In addition to the WE LEAGUE WE ACTION DAY, Chifure AS Elfen Saitama is implementing its own "TSUDOI Project." Under the theme of "Hopes and dreams for the children's future!" they are regularly interacting with children. It started last year and has been postponed several times due to the pandemic, but so far they have deepened their friendships with 179 people over a total of 6 occasions.


This event was carried out all by the players themselves, from the planning to the actual implementation. Taking advantage of the experience gained from the previous WE ACTION DAY and the TSUDOI Project, they said that they tried to make the event enjoyable and memorable for the participants.


Before kicking off the event, participants received a T-shirt with "TSUDOI Project" written as a gift. The players also wore the same shirts, with everyone gathering on the pitch in their matching shirts. The captain – Minori Kishi kicked off the event by saying, "Today's time is limited, but let's enjoy it anyway. Feel free to also ask questions.


At first, the players demonstrated their professional skills. Funada Mayu said, "I want everyone to see how good the players are, so we are going to start with the Elfen show!" Loud cheers and applause erupted at the breathtaking speed of the kick, the sound of the ball being kicked, and the agile reaction of goalkeeper Funada.


Then followed a "Let's play together session" where participants and players enjoyed playing football together. First, they interacted with a game of tag and relay games as they moved their bodies and exchanged smiles. A heated battle unfolded during the mini-game. The players actively yelled out, "Nice play" and "Great job," as the siblings of the participants who were watching also created a fun atmosphere.


Kishi, who played a central role in the program said, "This time, the participants are junior high school girls who play football, so I tried to include a high-level skill stuff. I don't think they have many opportunities to play with professional players. It was a lot of fun and we were also able to realize our love for football as well," she shared with a smile.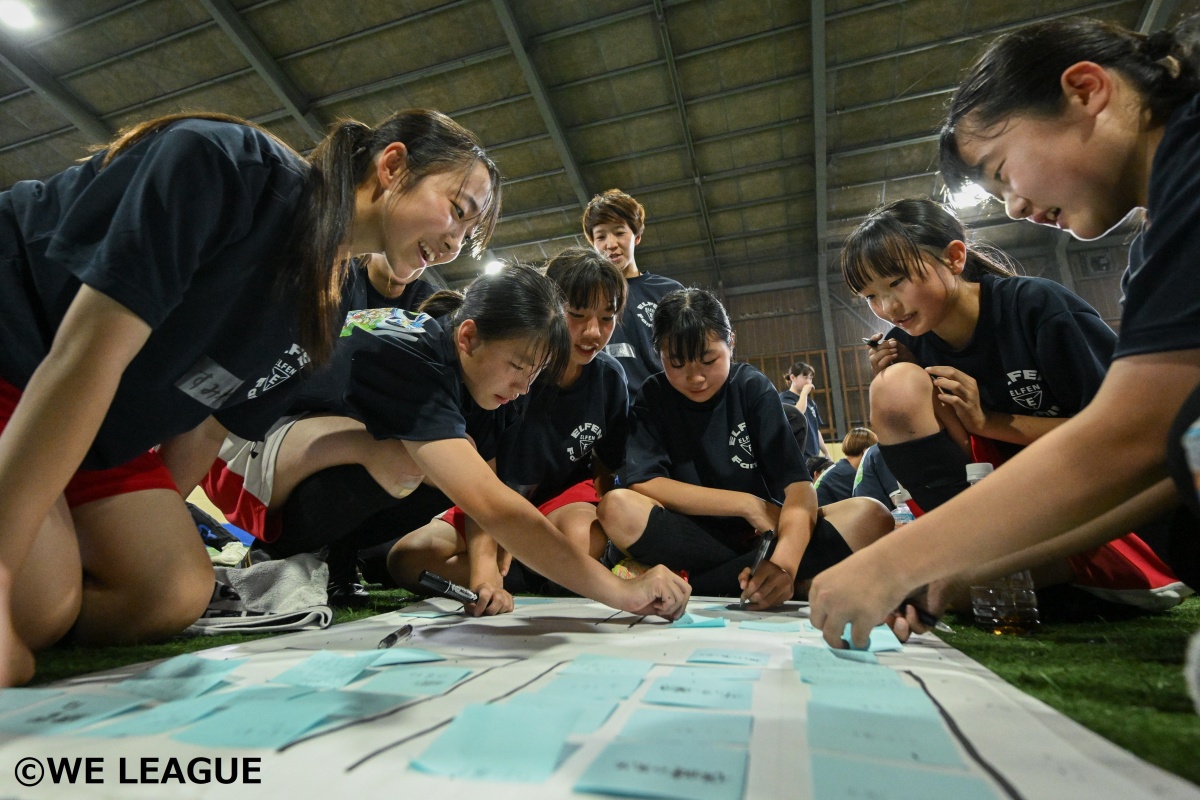 Group Work "Think about your dreams and live your own life"
In the "Talk Session," Chifure Group LGBTQ+ Ambassador Ayato Sakuragi talked about "acknowledging each other's individuality." Maho Hashinuma and Yushika Nakamura shared their personal experiences and opinions as they proceeded the show.


In the form of group work, they discussed their 'future dreams,' 'what will you do for your dreams?' and 'what they want to do. What they haven't done.' Everyone wrote down what they thought or felt on sticky notes and poster papers. They discussed each opinion and presented as a group. Mr. Sakuragi said at the end, "You can do anything. Let's be who we are and make choices exactly as we are."


Chisato Mine, a third-year junior high school student who belongs to a local football club said, "My dream is to become a flight attendant, but listening to Mr. Sakuragi's story made me want to become a football player as well. That it's okay to have two dreams. My little sister is a big fan of Riko Yoshida, and I was very happy that she came and talk to us. .In the mini-game, Funada called out to me from behind and coached me – it was very helpful. Various players gave me positive feedback, so the atmosphere was nice. I will do my best to pursue my dreams" she shared with enthusiasm.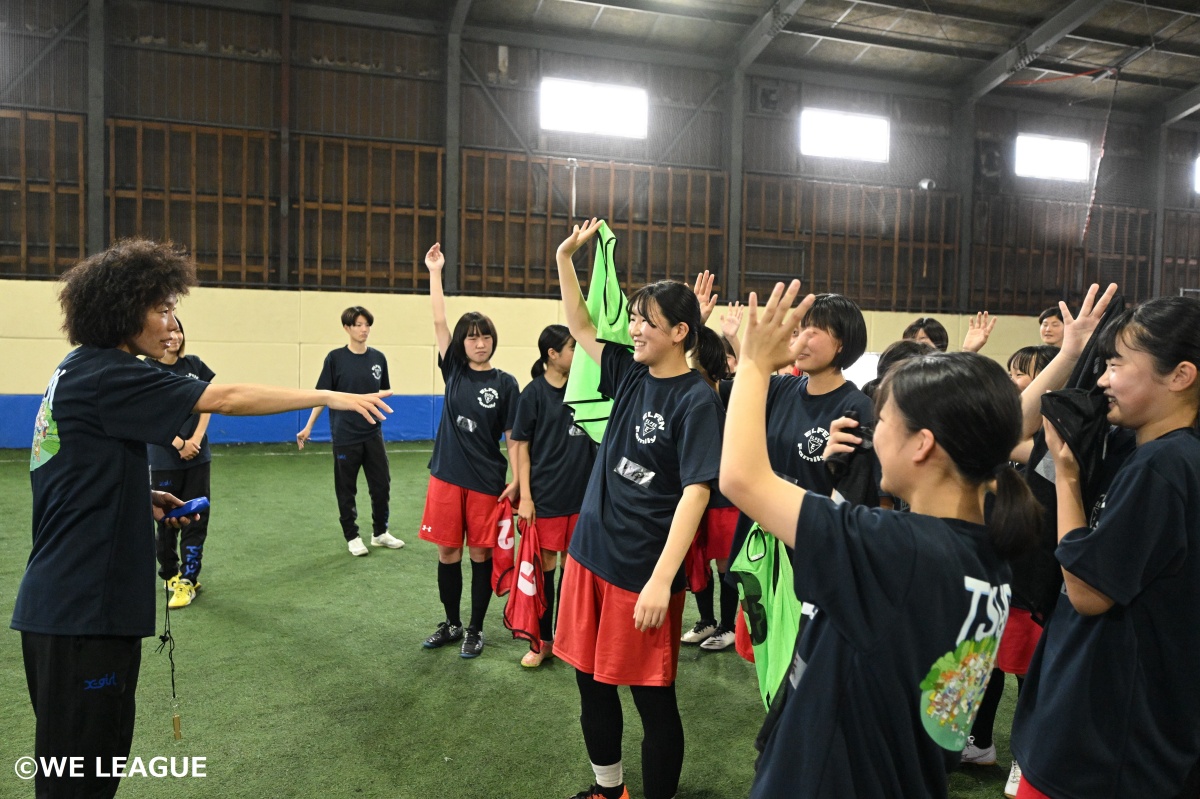 Eriko Arakawa, the eldest of the team, is entering her 26th year as a player (in the top league of women's football). Previously, Akari Matsukubo said, "When I was in elementary school, Arakawa and other female football players taught me and I started to dream of becoming a football player." I still cherish the autographed balls of the Beleza players, including Arakawa." What Arakawa and other top players have been working on for the girls has motivated the WE LEAGUERS.


Arakawa shared "I didn't think I would be playing for such a long time, so I never imagined being able to play with the kids who were so small. I was doing it just because I wanted people to have a good time with me by enjoying football and signing autographs. If that became that reason they became motivated for football, that makes me happy. There may be a meaning in continuing these things," she said shyly.


At the end, an autograph session, a photo shoot and handing out souvenirs concluded the event of "Hopes and dreams for the children's future!" in two and a half hours. The oldest surviving document of women's football in Japan is said to be the former Kagawa Prefectural Marugame Girls' High School, taken in 1924. About 100 years later. It gave children hopes, dreams and courage, and made them realize that women's football will surely connect into the future.