On June 2nd and 4th, Week 21 of the 2022-23 Yogibo WE LEAGUE WE ACTION DAY, Albirex Niigata Ladies carried out two events On the 2nd, "How to make sports into a career? To maintain? Workshop for teenage girls x professional soccer players," high school students and the players discussed the issues of women quitting sports in their teens. On the 4th, "Learning more about women's sports. Easy sports class for Albi girls!" elementary school students and three groups working as "Albirex" played sports together.
Albirex players gather – cheerleading, basketball, and football!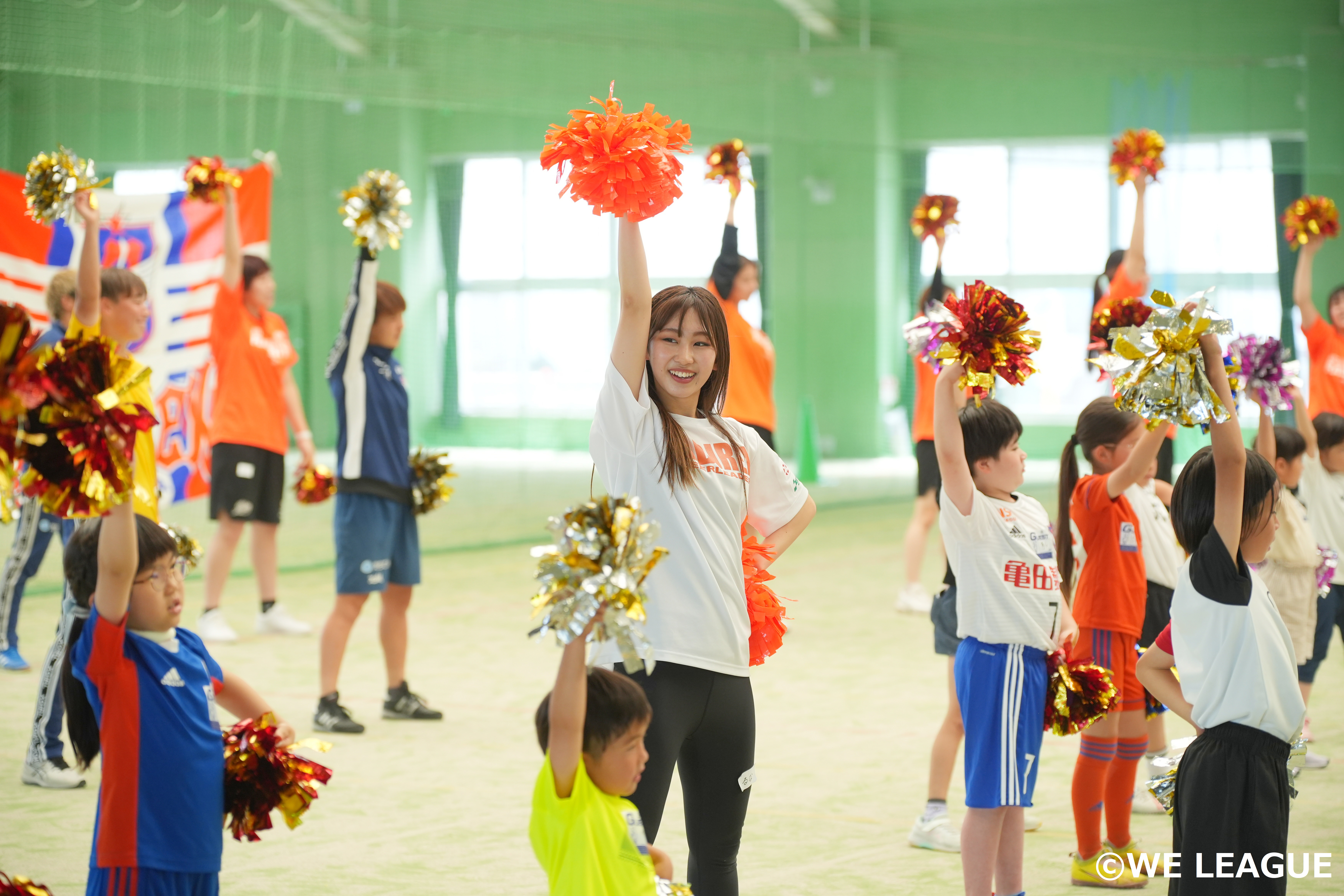 At the Midori and Mori Sports Park in Nishi Ward, Niigata City, Niigata Prefecture, "Learning more about women's sports. Easy sports class for Albi girls!" took place. A sports class where you can experience 'dancing' taught by 'Albirex Cheerleaders,' 'basketball' taught by players of 'Niigata Albrex BB Rabbits,' and 'football' taught by 'Albirex Niigata Ladies' altogether. 22 participants – NEXT teens who will be the coming generation to play sports from the lower grades of elementary school joined.


First, the five members of the Albirex Cheerleaders demonstrated the arm motion (hand motion), which is a basic cheer dance movement as everyone imitated it while slowly moving their bodies. The members of the Albirex Cheerleaders taught them how to properly stretch their arms as everyone moved rhythmically.


Next, held pompoms in both hands and tried to dance to the music. At the beginning, the students were focused on moving their bodies while watching the example of the Albirex Cheerleaders, but when the children smiled, it spread to the players of the Niigata Albirex BB Rabbits and the Albirex Niigata Ladies who were also dancing with them.


Next was basketball with five Niigata Albirex BB Rabbits players. When they threw a soft ball into the basket and scored one after another, there was a loud cheer each time. The Niigata Albirex BB Rabbits players gave advice to the participants on how to adjust their power and everyone felt the joy of scoring.


There were two types of basket – high and low, and they were especially happy when they scored on the basket that was much higher than themselves.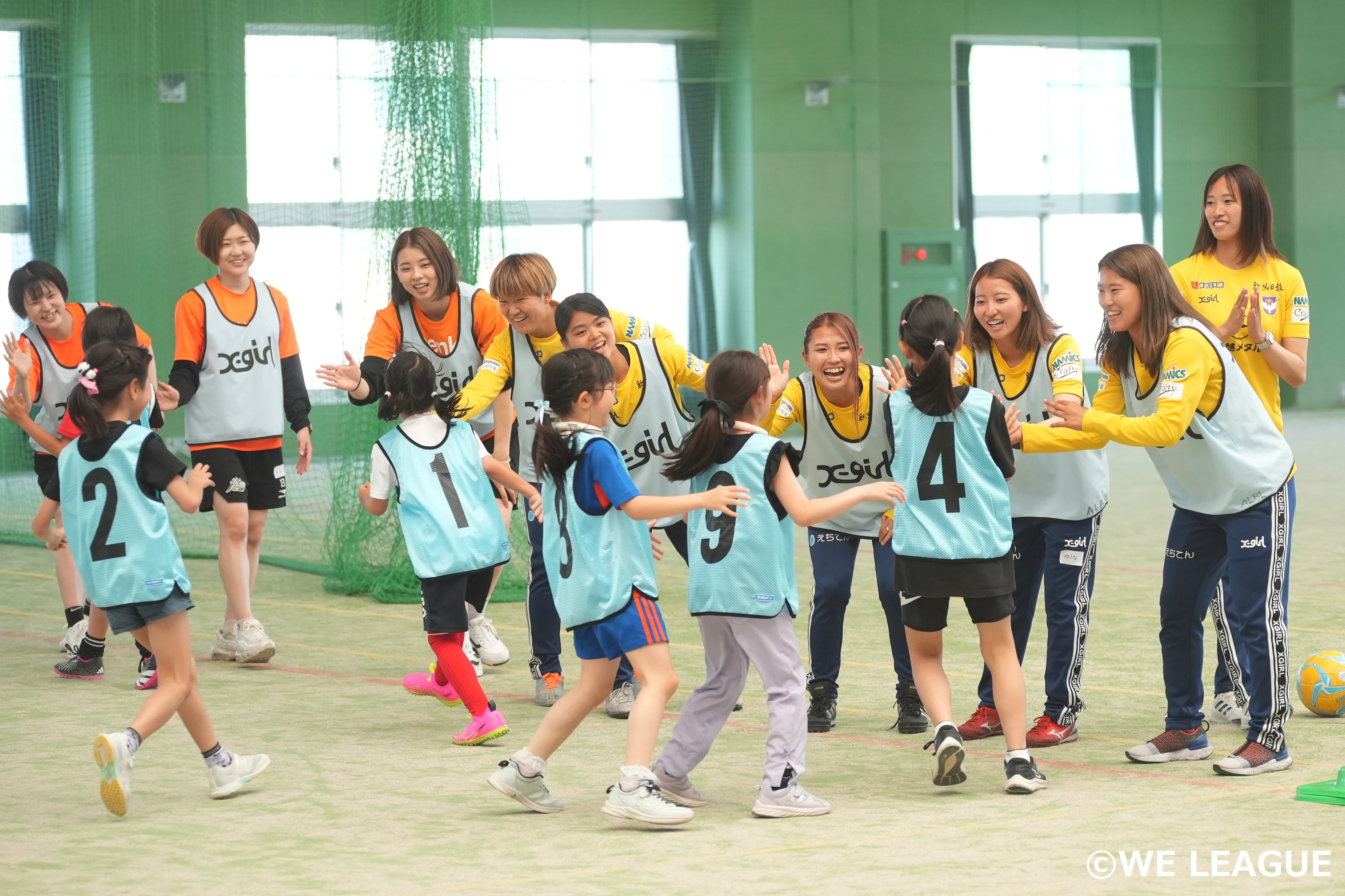 The last was football in which 16 Albirex Niigata Ladies players participated. First, Hikaru Kitagawa, Yume Takikawa, Yuna Sonoda, and others demonstrated their techniques of passing the ball using their heads and when they succeeded, the place was filled with loud applause.


Then they got into a pair with the players and started by slowly kicking the ball and slowly stopping the ball. They familiarize themselves with the ball under the flexible rule of being able to use their soles or knees.


Next, they played a mini-game with multiple players. By using multiple balls at the same time, more participants were able to get to the goal, creating a circle of joy among teammates each time a goal was scored.


In particular, Mizuki Sonoda and Saki Yanagisawa caught the eye of the participants and their parents with their ball techniques causing a loud cheer. During the mini-game, some of the children fell and cried, but Kitagawa and other players called out to them and praised them for chasing the ball again as everyone applauded as well.


At the end, a raffle was held to win autographed balls, and the venue was full of excitement. Additionally, as souvenirs HAPPY Turn's sponsored by KAMEDA SEIKA CO.,LTD.Ltd. and T-shirts with the autographs of BB Rabbits players were distributed to everyone. As they concluded "Learning more about women's sports. Easy sports class for Albi girls!"


Chika Hirao said "Sports naturally made everyone smile, and I'm happy to see everyone's smiles. I would like to continue interacting with my fellow Albirex members and lift Niigata" with a smile.


Himeno Shirai, who is from Niigata Prefecture said, "When I was in elementary school, I remember kicking a ball with Megumi Kamionobe and Yuri Kawamura at the Albirex fooball class, but now I'm their teammate. So I would be very happy if today's participants become future teammates," feeling a little emotional.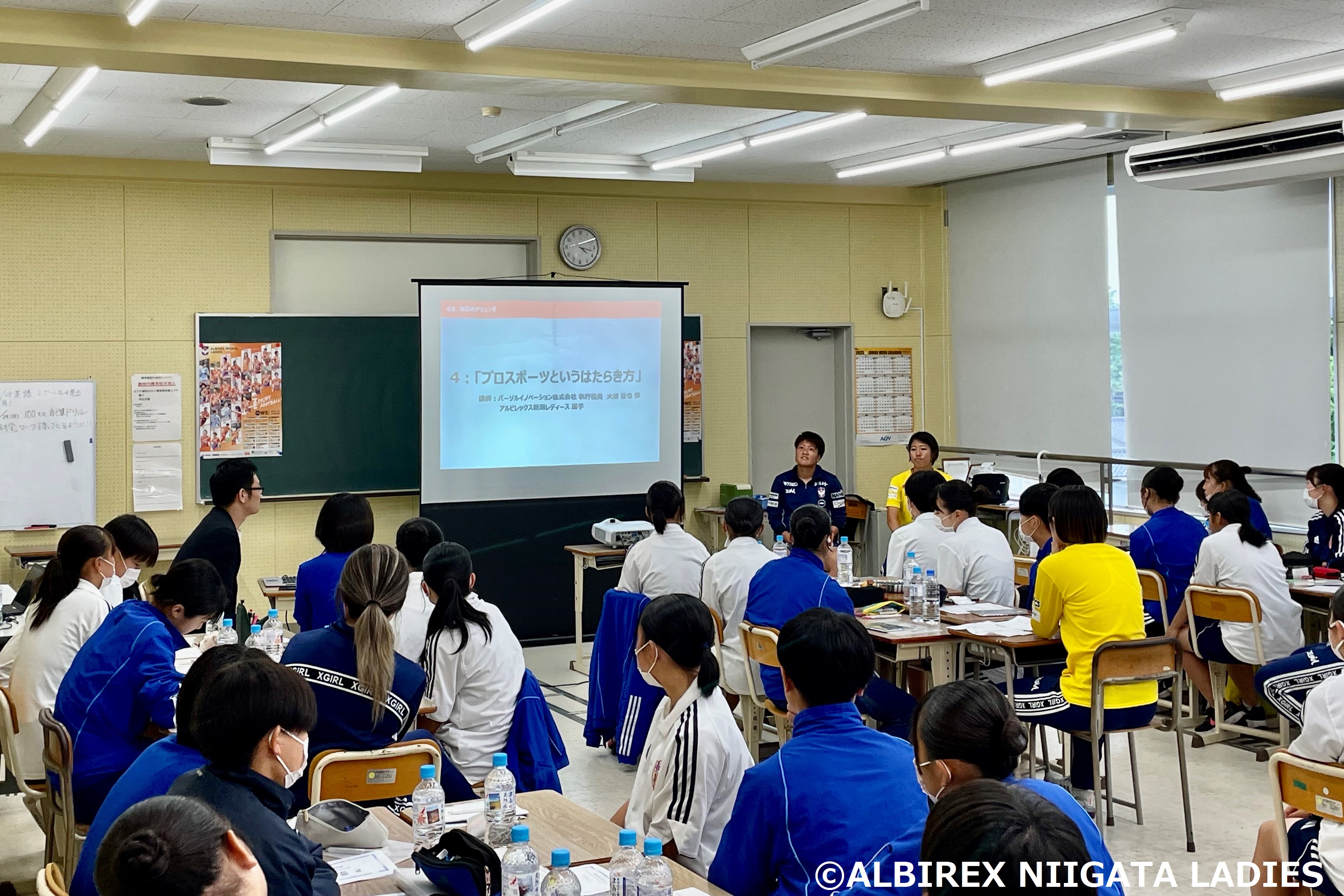 Discussing concerns and dreams at a workshop with female high school football club members
At the College of Upward Players in Soccer in Kitakanbara-gun, Niigata Prefecture, was the "How to make sports into a career? To maintain? Workshop for teenage girls x professional soccer players," event where 6 players including Satsuki Miura and Hisui Haza, participated in the discussion.


With the cooperation of the Persol Group, a partner company of the WE LEAGUE, Mr. Seiya Oura, Director and Executive Officer of Persol Innovation Co., Ltd., gave a lecture and talked about careers related to sports, what kind of career will be available by continuing sports. In the panel discussion with Mr. Oura, Moemi Ishibuchi, and Ayaka Michigami, the students learned about their reasons for pursuing higher education, becoming a professional player, and what motivates them to be active as a professional player, etc.


After that, they were divided into groups with members of the JSC Women's Football Club at Kaishi High School and ask directly about female high school students' concerns and dreams. They discussed what is necessary for girls to not quit sports in their teens and to make women's football more exciting. Yurie Shirasawa, a teen who is also from Niigata Prefecture, talked about the difficulties she faced when she was a student, and how she overcame them to become a professional player.


Kawamura has been playing for Albirex Niigata Ladies since junior high school, and is also a graduate of Kaishi High School. "There was a time when I was in a situation where I couldn't continue because there was no women's football team when I went on to college. Luckily, my next club was decided then, but I feel that it would be a waste if I could not continue because of the environment. I want to work on what Albirex Niigata Ladies can do to increase the number of women competing," she told the high school students at the workshop.


Albirex Niigata Ladies celebrated its 20th anniversary last year. Building on history, these two exchanges with children definitely provided an opportunity to connect to the future.