Omiya Ardija VENTUS held two events for the WE ACTION DAY of the 2022-23 Yogibo WE LEAGUE Week 17. On May 5th in Saitama City of Saitama Prefecture – their hometown, they joined for a recreational interaction with facility users at the "Sankeien Day Service Center." Followed by a "Let's Talk!!" lecture on basic information about the female bodies on the next day, which included a roundtable discussion and a soccer game for 1st and 2nd grade junior high school students of their academy.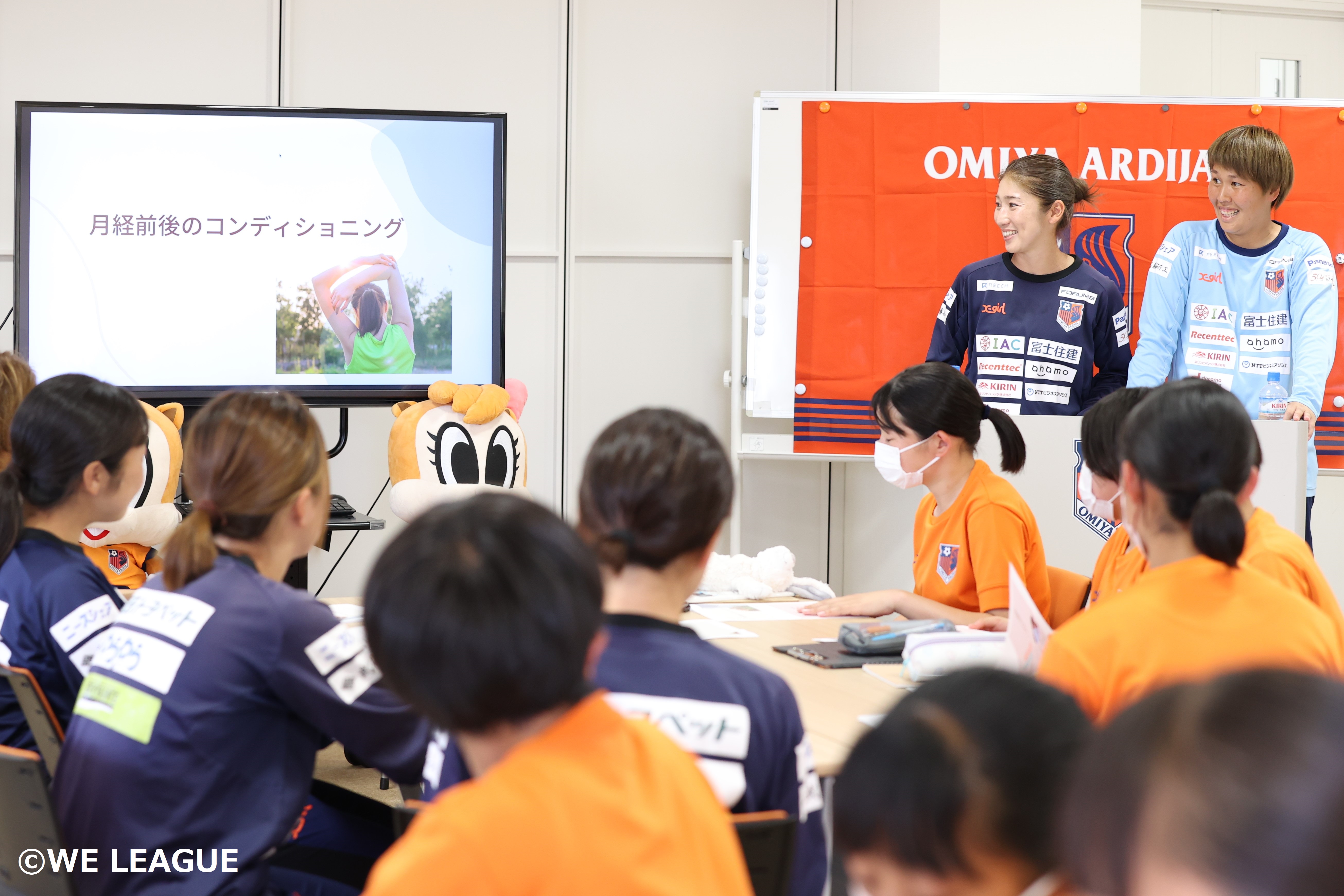 Teaching the academy players important information on female bodies from experts
On May 6th, 27 players and about 20 members of the Omiya Ardija VENTUS Academy participated in the "Let's Talk!!" event at the clubhouse of Omiya Ardija VENTUS. For the "Let's deepen our understanding of the female body!" event, the group was divided into two, U13 (first year of junior high school) and U14 (second year of junior high school).


The lecture on basic knowledge about the female body was based on what the players learned on April 9th, from guest experts such as midwives. They summarized the knowledge they gained over the course of a month in an explained it in simple terms as they devised their explanations to easily convey the knowledge as an acting lecturer.


In the U13 group, a lecture on the theme of "female athletes and food management." Ayaka Inoue became the leader as Mariko Kubo acted as the facilitators to convey the importance of meals. The role of the three major nutrients: carbohydrate, protein and fat was explained alongside tips on how to effectively take them in. They shared what kind of meals they eat three days before the game, just before the game, and after the game to explain in detail.


Inoue, who gave an enthusiastic lecture using slides said, "Food is important for athletes, so I'm glad I was able to convey this to the next generation. I made the content with the intention of it being something that one can immediately make use of. It was a good learning experience because this started from first receiving a lecture from the experts myself and then conveying to others," as she shared how important it was to utilize information she retrieved.


For the U14 group, was a lecture on the theme of "conditioning before and after menstruation." Arisa Mochizuki lead the session while Ayu Nakada joined and shared her personal experience. Explanations on the rhythm of menstruation, changes in the body during each cycle, and how to deal with PMS (premenstrual syndrome) and PMDD (premenstrual dysphoric disorder) was given. They also talked about taking painkillers and the pill as well as keeping a record on your body temperature to better understand the rhythm of your body to adjust your condition. They also talked about the importance of going to a gynecologist.


Mochizuki, who gave an easy but thorough explanation said, "I hope that they can utilize this information as they learn about it in advance in their second year of junior high school. Menstruation often affects performances, but I'm actually in a good condition during my periods, so it really differs individually. I hope this event helped provide an opportunity for everyone to reflect on their own bodies."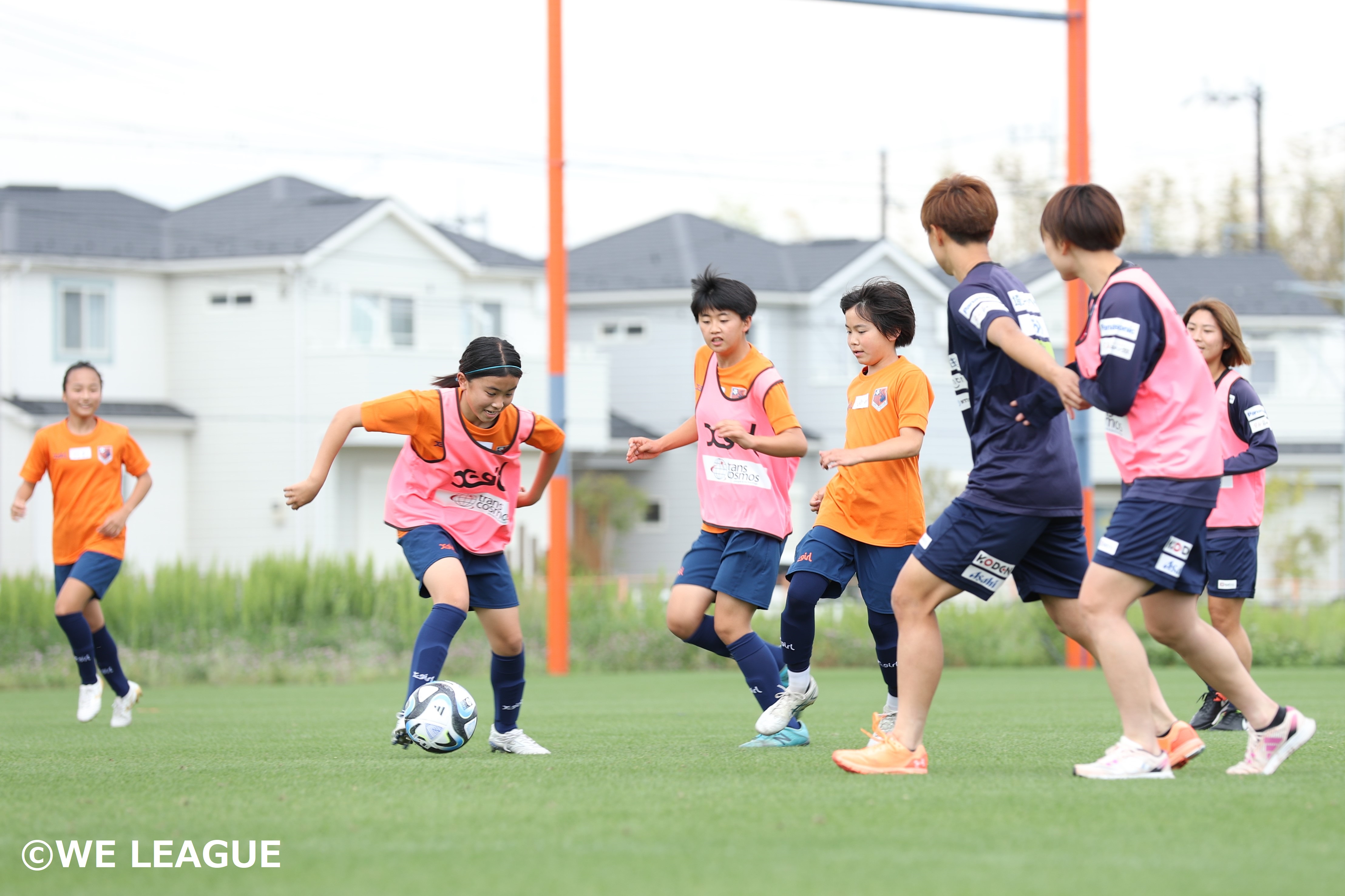 Experiencing speed and technique by playing with professional players
After each lecture, was a round-table discussion and Q&A. When asked, "What do you eat before a match?" the players replied, "We have castella, umeboshi (pickled plum), jelly drinks, brown sugar, bananas, etc. in the locker room, so we all basically eat what we like." And another question "What should I do to grow taller?" Yuki Sakai answered "By getting enough sleep. I'm not from a tall family, but I've grown to be 171cm."


During the football exchange, they enjoyed playing mini games on the natural grass pitch. Due to the pandemic, there were many academy players playing together for the first time, but they were all full of smiles.


Rina Suzuki, a second-year junior high school student said, "I felt that the speed and technique of the VENTUS players were completely different. They were very good at throwing the ball and releasing it. Rana Okuma, who I played against was always moving her head looking around, and I thought it was amazing that she managed to always be in the middle point. I had experience being a ball person, but I'm glad I was actually able to play. The information on menstruation will be important even when I become a high school student, so I want to use it as reference. The players were very kind, so I hope to one day become a player like them."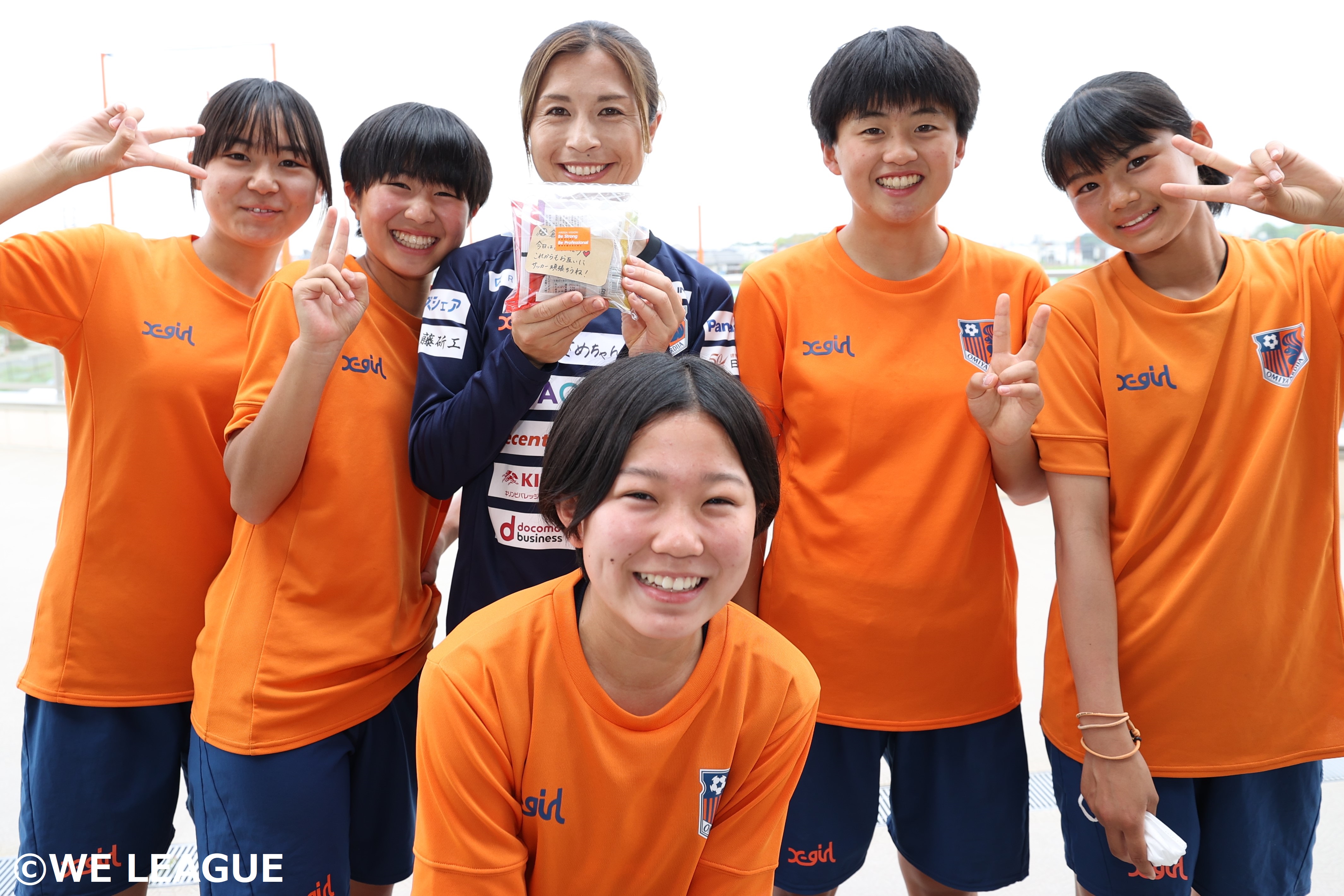 At the end of the event, the players handed out souvenirs. A message card handwritten by Aya Samejima was attached to each souvenir. Samejima, who was watching the participants carefully take them home said, "I wrote the messages in hopes that it would motivate them to do their best. I got an autographed ball when I played in Tochigi when I was younger, which I still cherish. I think the players in the academy have something really good, so I'm looking forward to playing with them as teammates soon" as she shared with a smile.


The girls gained a lot of knowledge and irreplaceable memories through the event. Wearing the same uniform and standing on the WE LEAGUE pitch together may not be an opportunity that is too far away afterall.