On May 3rd, week 16 of 2022-23 Yogibo WE LEAGUE, Nojima Stella Kanagawa Sagamihara held a "Nojima Stella x Aoyama Gakuin University Workshop" on WE ACTION DAY. At the Sagamihara Campus of Aoyama Gakuin University, 23 players, 11 Aoyama Gakuin University students and university-affiliated students along with 16 general participants, a total of 50 people worked together to "Uplift Sagamihara with women's football! Let's all think about what women's football can do and what is necessary for that."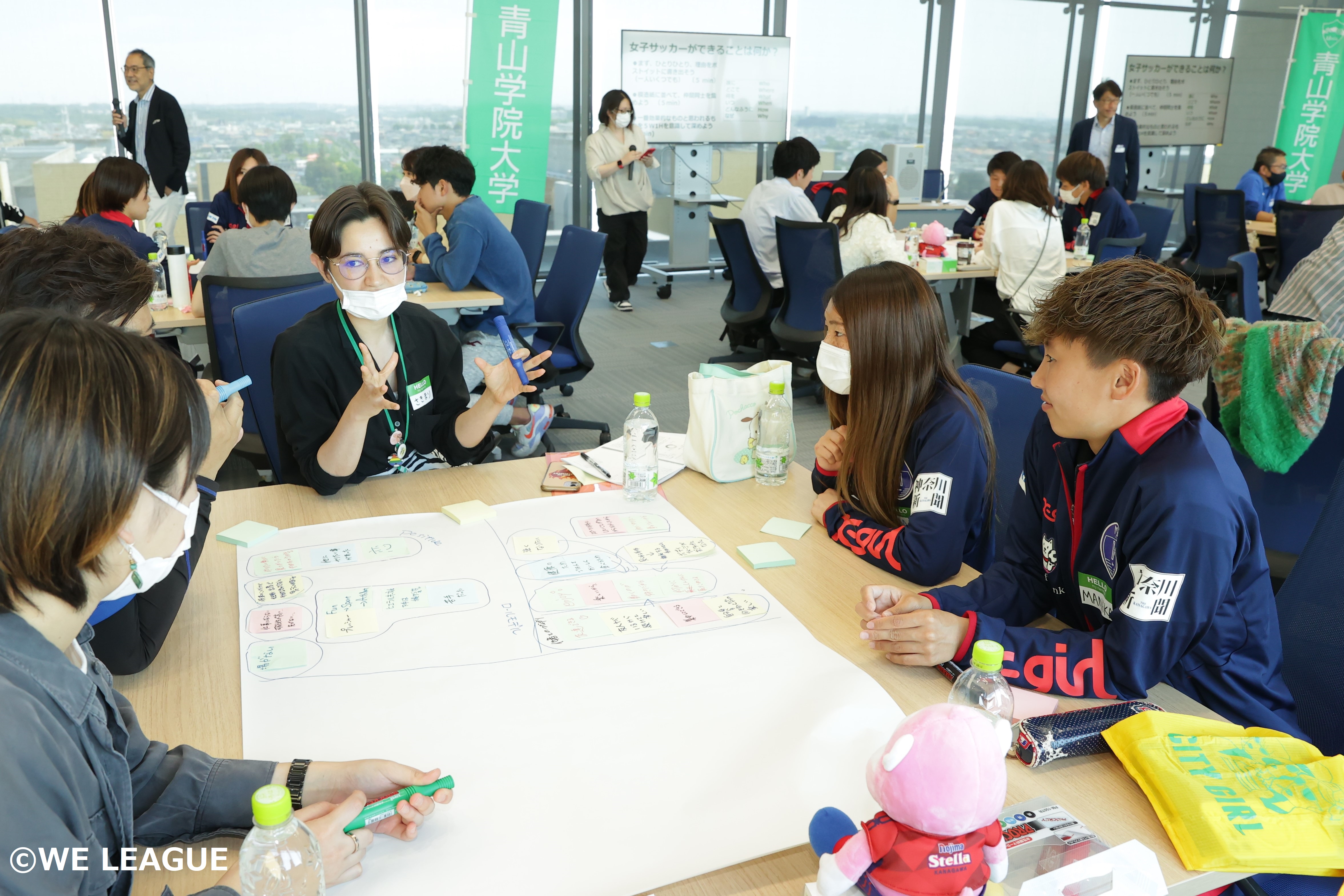 Working on the theme of "Upplifting Sagamihara with women's football"
This was the first-ever joint event with Aoyama Gakuin University in Sagamihara City, the hometown of Nojima Stella Kanagawa Sagamihara. First, Professor Toshihiko Sato, specially appointed Professor at the Graduate School of Social Informatics, Aoyama Gakuin University, acted as the facilitator and explained the significance of the workshop, the theme, and how to proceed. Professors at the University's Center for Gender Studies also gave their support as they worked together.
With the theme of "Uplift Sagamihara with women's football! Let's all think about what women's football can do and what is necessary for that," and the "goal" for the day was set as: Why women are furthering away from sports – Exploring the reasons and thinking of countermeasures. At first, the group was divided into eight groups, with 5 to 8 people per table, where the kicked off with an icebreaker of self-introductions and coming up with a team team name. While the players who were good at talking took the lead, they talked about unexpected commonalities and topics, as they got to know each other better.
In the first group work, they discussed "why does one keep playing sports and why does one stop playing sports?" They wrote down their ideas on colorful sticky notes. Posteing those on a large poster paper, the groups organized "reasons for continuing and reasons for quitting." Among the participants were elementary school children and their parents, as well as members of the local football association, so people from various backgrounds exchanged and shared their experiences and opinions.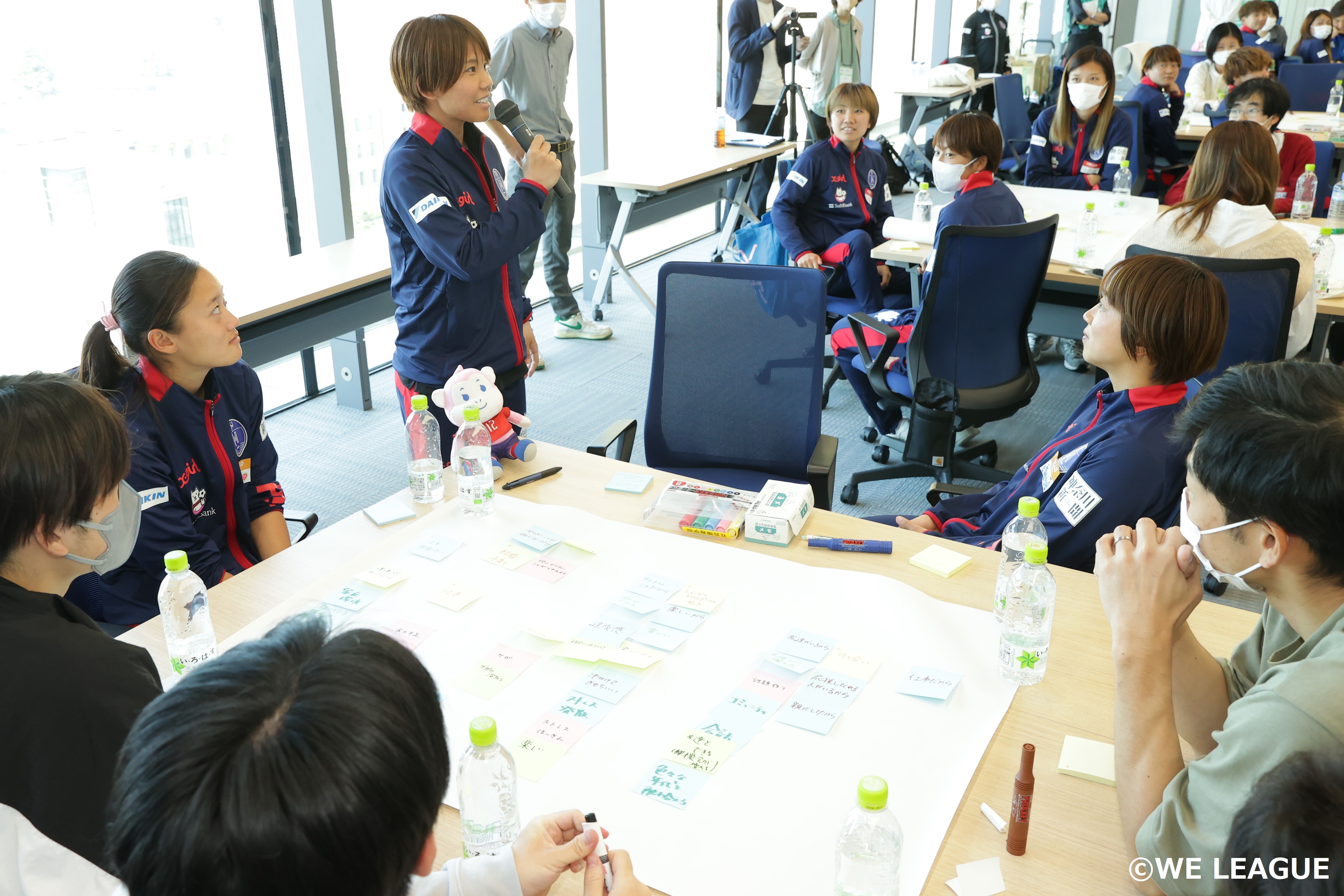 Things like "I enjoy playing football with my friends," "I had an environment where I could continue," and "I quit because I found other interesting things" were written down as each table presented them.
Mahiro Ito, a third-year student at the Aoyama Gakuin University, said, "I'm involved in sports marketing for the University's American football club. American football is popular in the United States, but it's a minor sport in Japan. Wanting to increase the sport population and attract more spectators is something we have in common with women's football. It was fruitful for me to hear different people's opinion and perspectives."
Manaka Matsumoto, who was actively talking with the participants with a smile said, "It was refreshing to hear the opinions of those who have not played football. While today's agenda included 'How girls can continue playing sports' or 'How to uplift Sagamihara with women's football,' which we thought was an issue, but people actually didn't know about it, so I felt that we have to make an effort to raise awareness. I want to make the most of the experience and information I gained from this workshop with the local people and move forward," as she looked positively to the future.
Discussing "What can women's football do?"
Next, they discussed "What can women's football do?" They wrote down what they can do and why on the sticky notes. Various opinions were expressed, such as "I can have a good time," "I can make friends," or "It can be a community interaction".
Finally, to summarize the workshop, each group made a presentation by writing their "plan," "reason," and "what we can do" on the poster papers. Specific ideas like "Build a women's football community for middle and high school students,'' "Become a role model for the local children," "Increase the number of young fans," and "Create an environment where men and women of all age can freely enjoy sports" were proposed. It was a fruitful time with many ideas that could be easily implemented if we committed.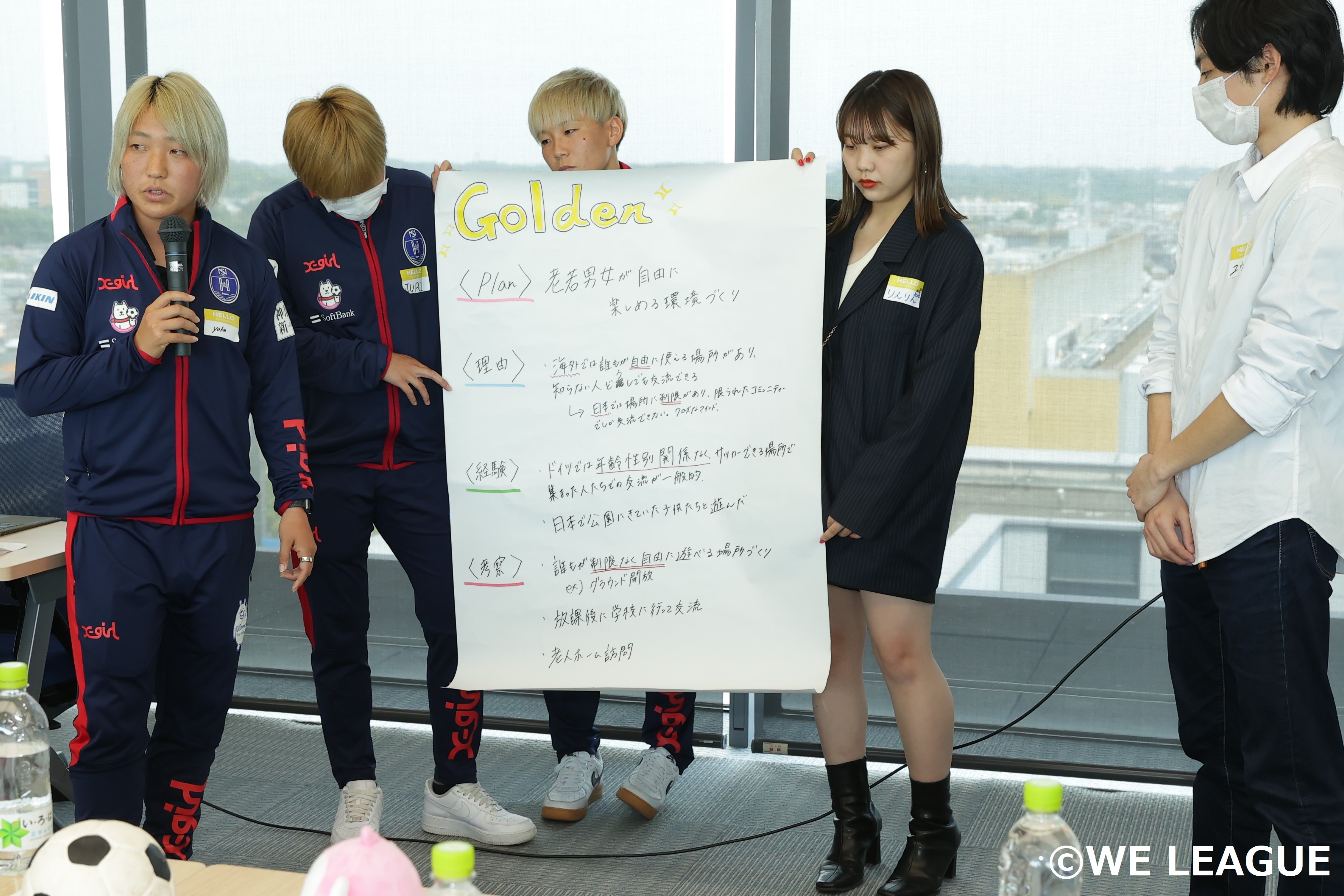 Alpine skier Hana Suzuki, a third-year student at Aoyama Gakuin University said, "Since I am a competitive skier, I learned how to expand my sport and what I should do. In my group, we discussed an issue of 'having few opportunities to come into contact with sports,' so we came up with a plan to 'popularize it amongst the young people' through 'athletes conducting workshops at elementary schools' or 'using social media and YouTube to increase interactions with other female athletes.' I would like to make use these in the future."
Yuka Hirano, who actively shared her opinion said, "It was my first time to experience a workshop, and it was a lot of fun. The other day, 38,000 spectators gathered at a match of 1.FC Köln, Germany, where I used to play. I wondered what would is the difference between Stella and women's football in Japan and overseas. That's why I'm so glad that I had this opportunity to learn share about different opinions of various people."
The two-hour workshop was a valuable opportunity to learn about problem-solving in addition to having an exchange in the community. Nojima Stella Kanagawa Sagamihara will continue to work in cooperation with Aoyama Gakuin University in the future. It was a day that led to raising further awareness and behavioral changes for the professional football players.