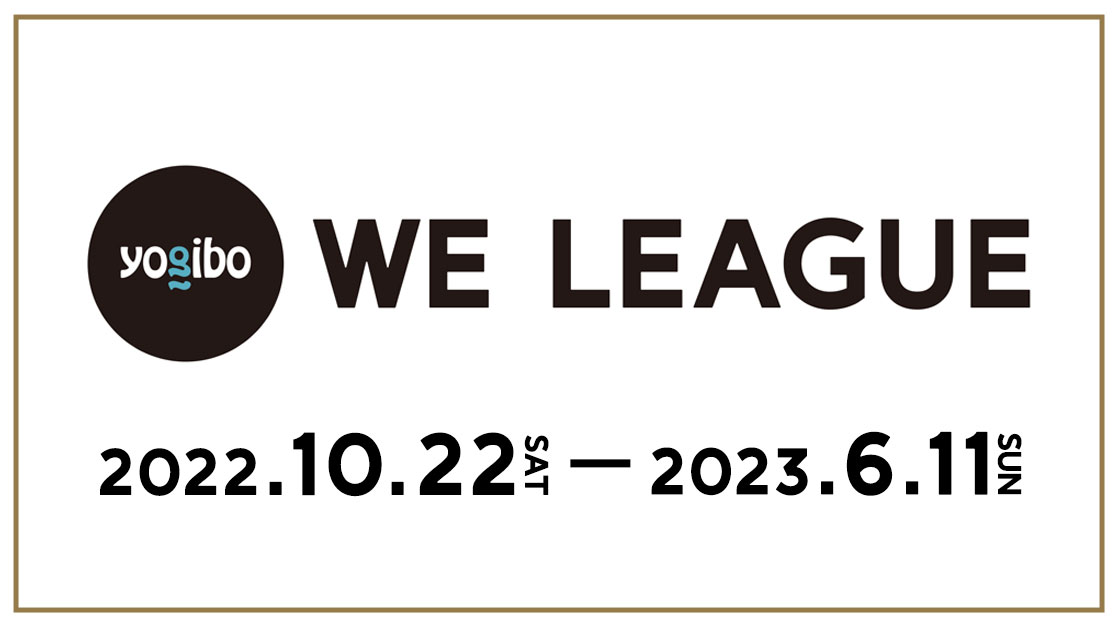 Japan Women's Empowerment Professional Football League (WE LEAGUE) is pleased to announce the outline and schedule of the upcoming 2022-23 Yogibo WE LEAGUE season.
The 2022-23 Yogibo WE LEAGUE will start on Saturday, 22nd  or Sunday, 23rd October and will run until Saturday, 10th or Sunday, 11th June 2023, with a total of 110 matches in 22 Matchweeks.
Information regarding ticket sales will be announced by each home club soon.
2022-23 Yogibo WE LEAGUE outline
Competition
2022-23 Yogibo WE LEAGUE
Tournament Format
11 Teams; Home & Away format (Double round-robin league system); 110 Matches in 22 Matchweeks
Schedule
Saturday 22 or Sunday 23 October 2022 - Saturday 10 or Sunday 11 June 2023
Matchweek 1: Saturday 22 and Sunday 23 October 2022
Matchweek 2: Saturday 29 and Sunday 30 October 2022
Matchweek 3: Saturday 5 and Sunday 6 November 2022
Matchweek 4: Saturday 26 and Sunday 27 November 2022
Matchweek 5: Saturday 3 and Sunday 4 December 2022
Matchweek 6: Saturday 10 and Sunday 11 December 2022
Matchweek 7: Saturday 24 and Sunday 25 December 2022
Matchweek 8: Saturday 7, Sunday 8, Monday 9 January 2023
(Winter break)
Matchweek 9: Saturday 4 and Sunday 5 March 2023
Matchweek 10: Saturday 11 and Sunday 12 March 2023
Matchweek 11: Saturday 18 and Sunday 19 March 2023
Matchweek 12: Saturday 25 and Sunday 26 March 2023
Matchweek 13: Saturday 1 and Sunday 2 April 2023
Matchweek 14: Saturday 22 and Sunday 23 April 2023
Matchweek 15: Saturday 29 April 2023
Matchweek 16: Wednesday 3 May 2023
Matchweek 17: Sunday 7 May 2023
Matchweek 18: Saturday 13 and Sunday 14 May 2023
Matchweek 19: Saturday 20 and Sunday 21 May 2023
Matchweek 20: Saturday 27 and Sunday 28 May 2023
Matchweek 21: Saturday 3 and Sunday 4 June 2023
Matchweek 22: Saturday 10 and Sunday 11 June 2023
Match venues
In principle, home stadiums of each club
Prize
Champions: Prize money 20 million JPY, Women Empowerment Trophy, Medals and Champion Flag
Runners-Up: Prize money 10 million JPY
Third Place: Prize money 5 million JPY