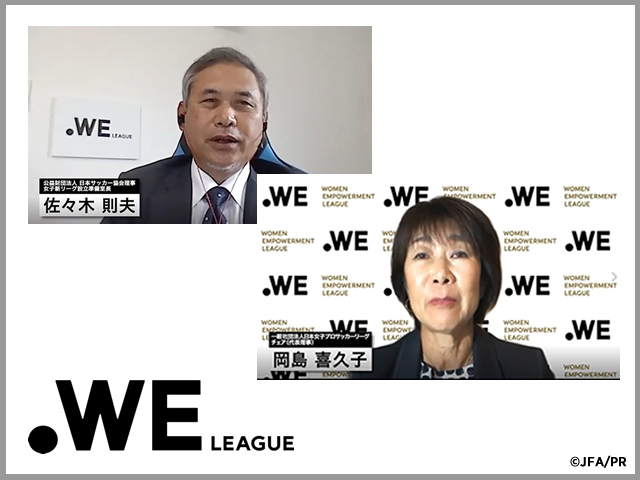 On July 13th, the WE LEAGUE held a virtual press conference about the inauguration of the chair: Kikuko Okajima.
Okajima was selected as the chair of the Japan Women's Empowerment Professional Football League during the general meeting of employees which was held on July 3rd. Her inauguration was announced on the 9th, and this was her first press conference as the chair of the Japan Women's Empowerment Professional Football League. Okajima attended this meeting from her home in Maryland, USA. Also, Norio Sasaki, head of the women's professional league preparation committee, who has been involved in the establishment of the league was present in the conference.
Comment from chair, Kikuko Okajima
First of all, I want to express my condolences to people who have suffered from COVID19, and those who have lost their family members. And, to people affected by the heavy rainfall disasters in Kyushu, Gifu, and Nagano areas.
The establishment of the WE LEAGUE is amazing news for us, who have been involved in women's football. I want to congratulate all women's football players in Japan. When I started playing football in 1972, we struggled to find practice fields, coaches, and opponents because there were only a few women's teams in Japan. My dream in middle school and high school was to play an international footballl match.
This dream came true when my team joined an international competition in Taiwan, but this also made me desperately eager for creating the women's national football team in Japan.
This passion led me to get involved in the foundation of Soccer Association Staff Of The Ladies Commitee, and becoming the first chairman and the executive director.
During the 1980s, I played in international tournaments with Asako Takakura; the current head coach for Nadeshiko Japan, Midori Honda; the current head coach for AC Nagano Parceiro Ladies, and Akemi Noda. These experiences gave me a sense of accomplishment. During this time, I also experienced a full stadium game in Xian, China and it moved me. I want WE LEAGUE to be a platform where players can experience the brilliance of playing in full stadiums.
I worked at a bank after graduating from university because foreign banks often had the weekends off. Back then, I had either practices or games on the weekends, so any job that required Saturday attendance was not an option for me. Luckily, I was successful at work and was sent to New York for a year for training. I became a sales trader for a Japanese stock brokerage firm. By then, my passion had slowly shifted from football to work. After getting married, I moved back to the US. The US's socially advanced environment allowed me to continue working at the bank and the brokerage firm, and raise children simultaneously. In the view of women empowerment, the US is many steps ahead of where Japan is. I'm excited to bring new ideas based on American ideologies that could potentially be accepted in Japanese society as well.
The reason I got involved in the establishment of the WE LEAGUE was the interaction with Nobutoshi Kaneda at the Mexico Olympics Bronze Medal 50th Anniversary Party in 2018. He had a vision for men's J league teams to invest in women's football. He saw my Merrill Lynch business card and said he would love to see me make this happen. He introduced me to J league's chairman Mitsuru Murai.
Shortly after, I called my friend in Japanese Football Association (JFA) to ask about turning existing Nadeshiko League into a professional league, which led me to multiple meetings with the women's chairman, Junko Imai and helping her look for partner companies. The Covid19 normalized working remotely from home which turned out to be a positive factor for me, I was able to connect with them virtually from the States.
Our most important vision is for young football girls to watch professional women's athletes play right in front of them. For girls to dream of becoming football players, we must create opportunities for them to watch, interact, and get excited at the stadiums. We plan to collaborate with football associations across the country. The word WE also represent us, not only the players but also people who support women's football. We want to actively interact with the fans through social media to incorporate their opinion. Moreover, we will welcome top players and coaches from all over the world to reach the goal of becoming the best women's football league in the world. I want to use the privilege of being based in the US, the country with the best women's football environment, to welcome players and coaches to the WE LEAGUE.
The WE LEAGUE needs support, especially from JFA and J league. Recently, I talked with J league's chair: Mitsuru Murai. He told me, "Learn from others who have been successful and don't be afraid to try new things". It is impossible to achieve gender equality without men. We aim to work together to challenge new things, developing women's football, and building a society where everyone can shine in their way.