On December 3rd, AC Nagano Parciero Ladies held WE ACTION DAY events at three venues in Nagano Prefecture. Sitting Volleyball Trial Event "Enjoy! Za (sitting) ☆Volleyball!" for participants of 4th grade and up in Nagano City, football session for children for kindergarten to third graders in Saku City called "Enjoy! Football! ~WE ACTION DAY~," and a roundtable discussion with local high school students, "WE have a dream! ~From Saku to the world~."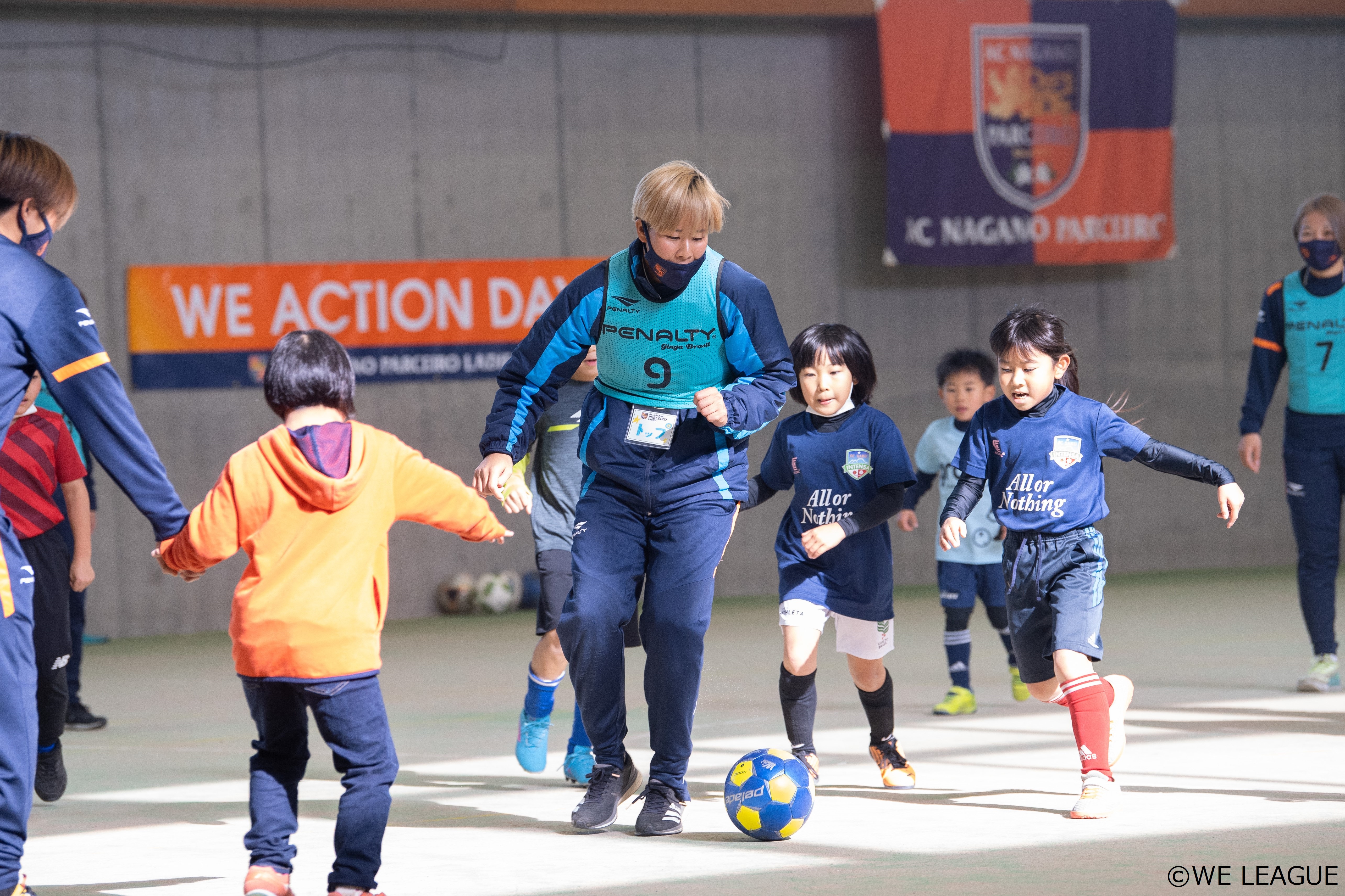 The importance of genuinely enjoying football with smiles


"Enjoy! Football! ~WE ACTION DAY~," a football session was held in Saku City, Nagano Prefecture. Rio Takizawa and Noa Kokusho took the initiative in creating the program. Takizawa, who obtained a Class C football trainer license when she was in college, says that she devised the menu with the emphasis on "concentrating but also just having fun." As intended, both the children and AC Nagano players enjoyed the various programs with smiles on their faces from start to finish.


Eleven AC Nagano players acted as coaches. From the first self-introduction, they captured the audience with their talking skills. The children were excited by the full range of activities, including tag, target shooting, dribbling competitions, mini-games, and penalty kick competitions. The children showed their development as they got better at touching and kicking the ball with each session. The entire venue was filled with a warm atmosphere thanks to the thoughtful encouragement of the players, who also charmed the parents who were observing.


Second grader Mei Kojima, who participated in this event said, "I had a lot of fun today. It was great to be able to play games with the professional players. The players were all kind, skillful, and awesome. Now I want to go to the stadium to cheer for Parseiro," with enthusiasm.


Takizawa, who played a central role in planning this event said, "We were most focused on the theme of the children having fun, so I am very happy that everyone had a good time. It was worth all the preparation and hard work I had done for about a month leading up to the event. I really like planning programs, so I put a lot of effort into it. The girls and boys were able to enjoy football together, and the players were also able to have a lot of fun. It was great to hear that they too want to become players and that they will cheer for the team," as she smiled.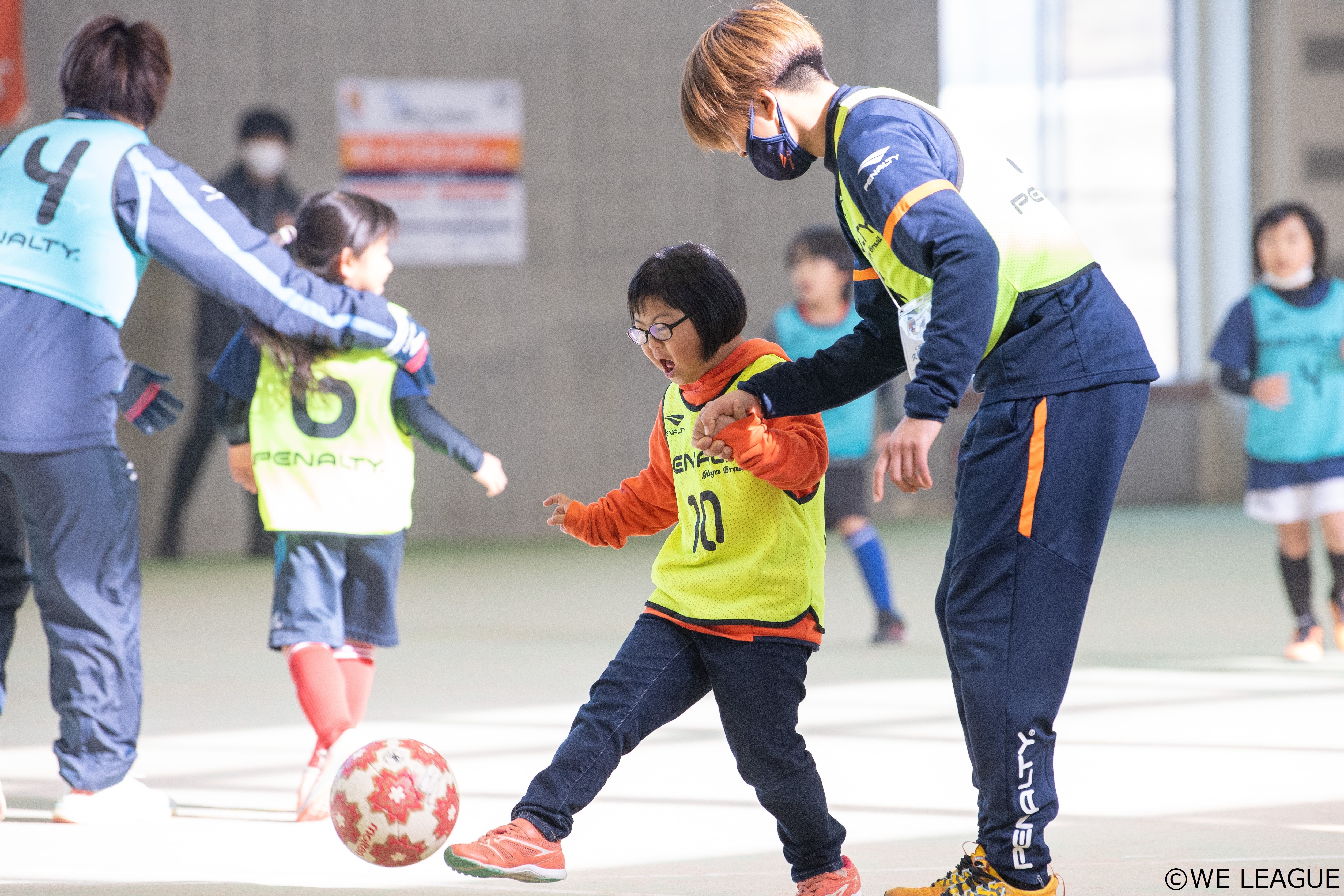 Sharing and Receiving Experiences to Motivate Each Other
"WE have a dream! ~From Saku to the world~," a roundtable discussion was held with 25 members of the Saku Chosei High School women's' football team. The five players who participated in the event all have experience playing for Nadeshiko Japan, the Japan national football team, and other age-group representing teams, as well as winning Japan's top high school team. The players answered questions from students, who will be representing the Hokushinetsu region in the 31st All-Japan High School Women's Football Championship in about a month's time, exchanging experiences and advice.


Saku Chosei High School has an educational policy to "become a global Saku Chosei," and the school is engaged in activities aimed at "going global," such as embark on an expedition to Spain. After graduation, some of the third-year students have already been selected to play in the U.S. or Spain.


Shino Kunisawa, a former Nadeshiko Japan player who has played in Italy and the U.S., was asked a number of overseas related questions. "I've decided to go to college in the U.S. What are some things I should be doing?" or "What about food?" or "How do I keep up with my mental health overseas?" She took the time and kindly addressed each question that came at her one after the other.


Moe Kimotsuki, Yui Fukuda, and Mai Fukuda won the All-Japan High School Women's Football Championship when they were at Fujieda Junshin High School, so questions were concentrated on their approach to football in high school. They were asked, "What did you need to do to win the championship?" or "What did you have to be conscious of in your training?" and "What are important things you learned in high school?" the participants were very interested in the answers. In return they offered sincere advice such as, "A life outside of training will also play a role in football," and "food and sleep are just as important as training."


Ibuki Nagae played as captain at the FIFA U20 Women's World Cup this past August, so she was asked for advice in competing in international tournaments and key to leading a team. After the roundtable discussion, Nagae said, "I liked that they were eager to ask questions. I am glad I was able to tell them how I wished I had practiced my non-dominant foot in high school and thought more about my food and health. It was a good opportunity for me reflect on my past and face my current thoughts while answering the questions. I hope we can continue to work together to make the women's football in Nagano more exciting in the future," with a smile.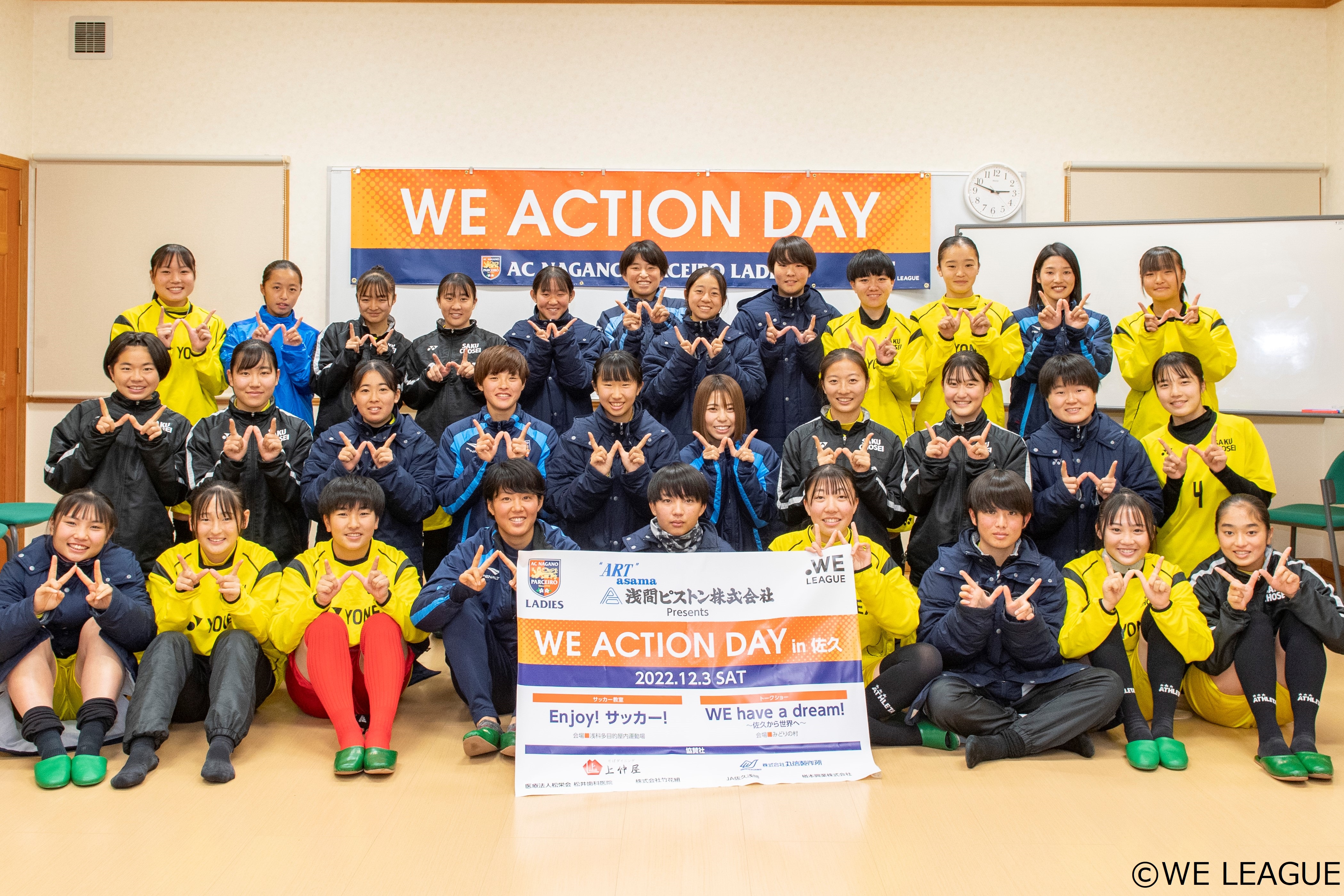 The one-hour round-table discussion, in which the five players from the WE LEAGUE talked to each other about their playing style, how they train, and how they spend their time off the field, finished in a blink of an eye.


Kanako Yahiro, captain of the Saku Chosei High School women's' football team said, "This was a very valuable opportunity. I learned specifically how to give our best in football. I want to take the advice and prepare myself to be in good condition for the tournament. I want to take care of my daily life to win the tournament. I plan to play in Spain after graduating, so this was a good opportunity for me to look ahead to the future" as she expressed her gratitude to be able to speak to top players.


The WE ACTION DAY activities at the three venues were successfully completed. We were able to utilize the individuality, ideas, and experience of each player, while at the same time creating an initiative that will remain in the hearts and minds of a diverse group of people. As the only professional women's football club in Nagano Prefecture, this was a big day for club to continue our interaction with the local people.