On November 22nd, the Mitsubishi Heavy Industries Urawa Reds Ladies held the "Reds Ladies & Saitama University Student Workshop" for the fourth WE ACTION DAY of the season.

The main purpose of the workshop was for the players and students from Saitama University – located in their hometown, to exchange opinions on the theme of adolescence, specifically during junior high school, and to discuss what kind of path they want today's junior high school students to take by giving advice and relaying their messages.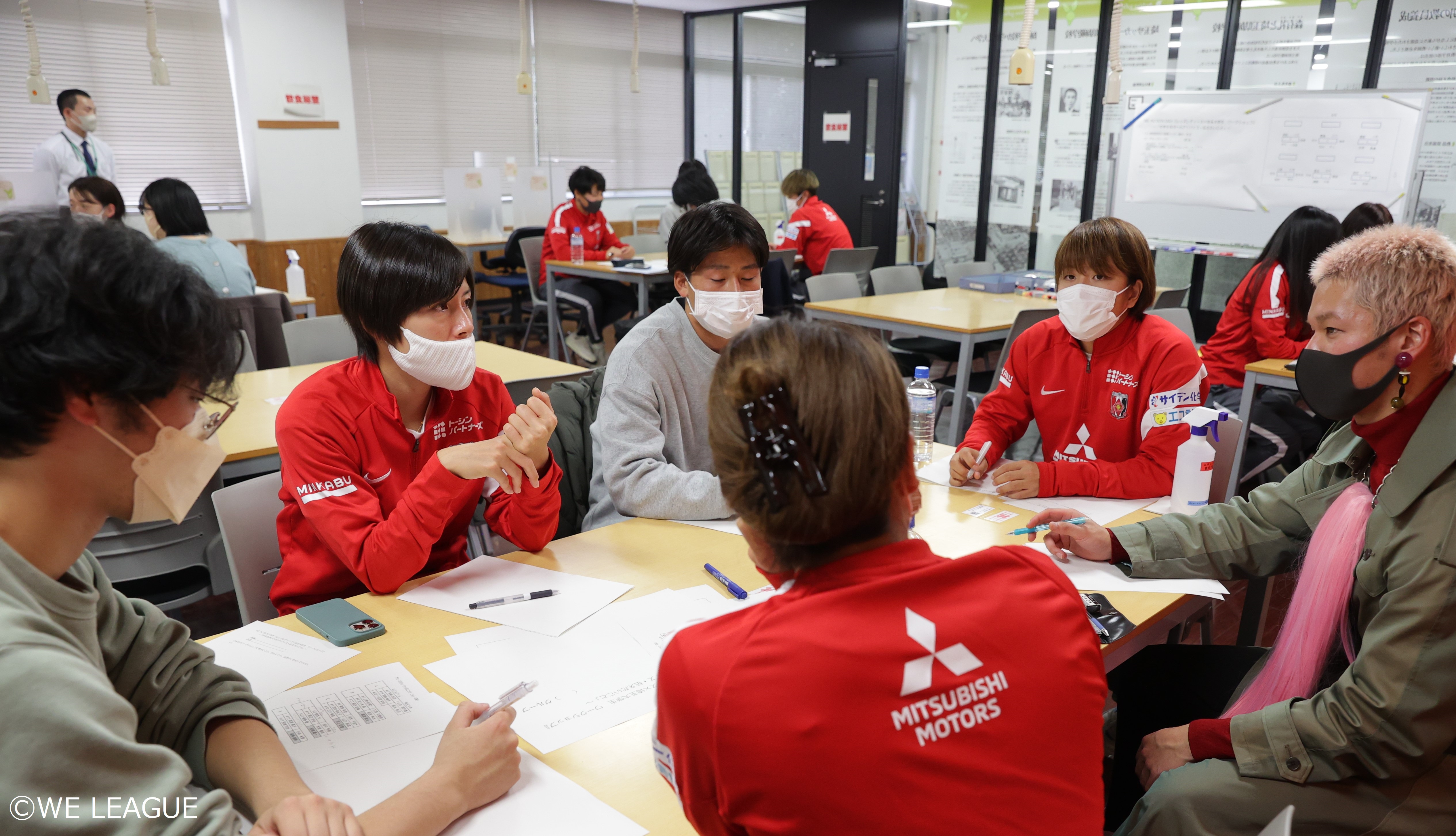 The Many Issues during Junior High – Some things are more visible looking back
The workshop was attended by 14 players and 15 University students, and began with a lecture by Professor Shunji Usui, Faculty of Education of Saitama University, who chairs the "Women's Football and Saitama" Executive Committee.


The building in URAWA REDs' club emblem, HOUSHOKAKU, is the school building of Saitama Normal School, the former Faculty of Education. The Saitama Normal School kickball club is said to be the origin of Saitama football, so Saitama University and Urawa have deep ties," he said, while the participants seemed to recognize the close relationship between the local community and the club.

"Junior high school can be said that it is the gateway to adulthood, and they have a lot of concerns about their physical and mental growth as well as their future. Let's think about what advice we can give to the junior high school students through our discussions," as they kicked off the group work between players and students.


The participants were divided randomly with mixed genders into groups where they discussed the challenges they faced in junior high school. Those included "not getting enough sleep," "many relationship issues," and "difficulty balancing academics and club activities." Some issues were visible only now that they have become older.


A Message to Future WE LEAGUERs: Don't Compare Yourself to Those Around You

After the discussion, the participants exchanged the kind of abilities they wanted the junior high school students to acquire and what kind of path they wanted them to take and presented it as a "message to the junior high school students today.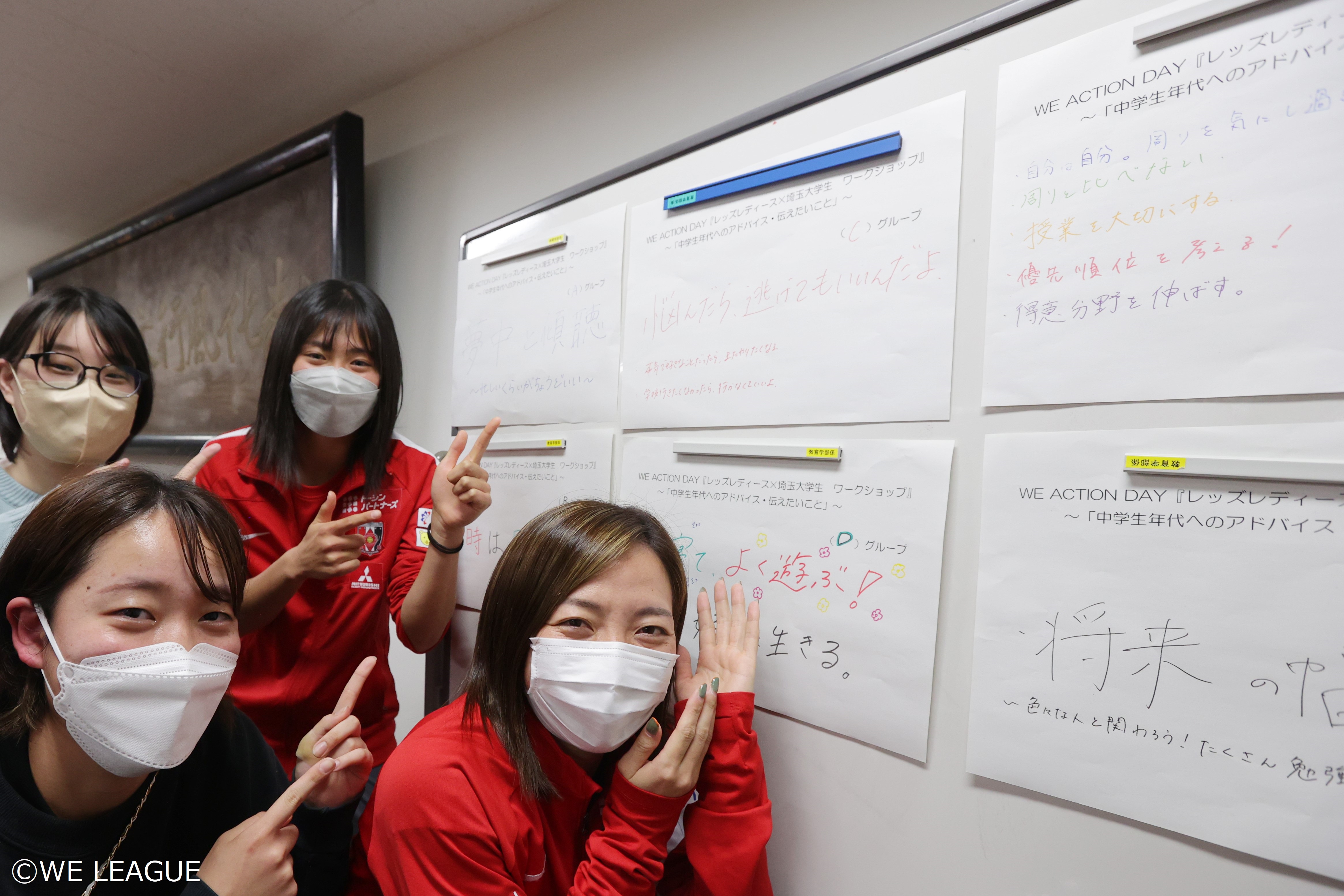 The group that presented "Finding (deciding) your own axis (way of life)," advised students to develop their strengths and find their own axis without comparing themselves to others.


One of the players in a group shared, "when I was a student and started to hate playing football, my coach suggested that I take a short break from playing it. And once I stepped away from the sport, I fell in love with it even more," so the group decided to tell junior high school students that "it's okay to step away from your problems.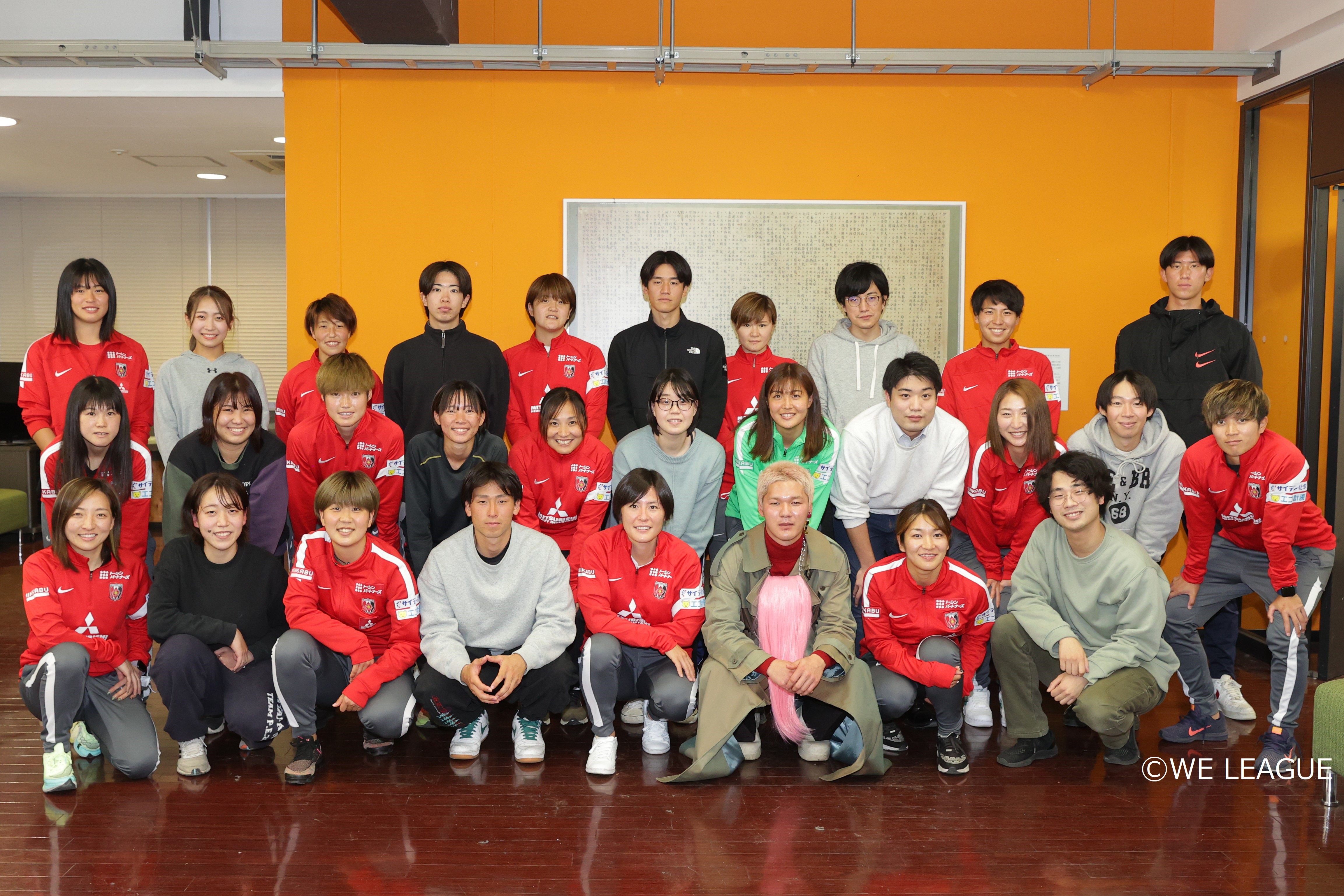 Ms. Chihiro Moteki, a third-year student specializing in physical education at the Faculty of Education of Saitama University, said, "I found out that even the Reds Ladies players I met for the first time, were living the same kind of life as me and had the same issues in junior high. I tend to think of that I am alone with my issues, but I realized that there are others in similar situations. I personally play volleyball, but there are parts of my life that I can relate to, and that made me feel closer to the professional football players," as she shared with a smile.


Saki Ueno also said with a smile, "It was refreshing to be able to sit down and talk with the students. I was so busy with my academics and football when I was in junior high school, but it might have been different if I had devised a better way to study." She also encouraged the future WE LEAGUERs, "it was not possible to aim to become a professional football player when I was in junior high school, but I hope they will work hard to become a WE LEAGUER.


The presentations at this workshop are posted on the official website of Urawa Reds Ladies as a message to the junior high school students.