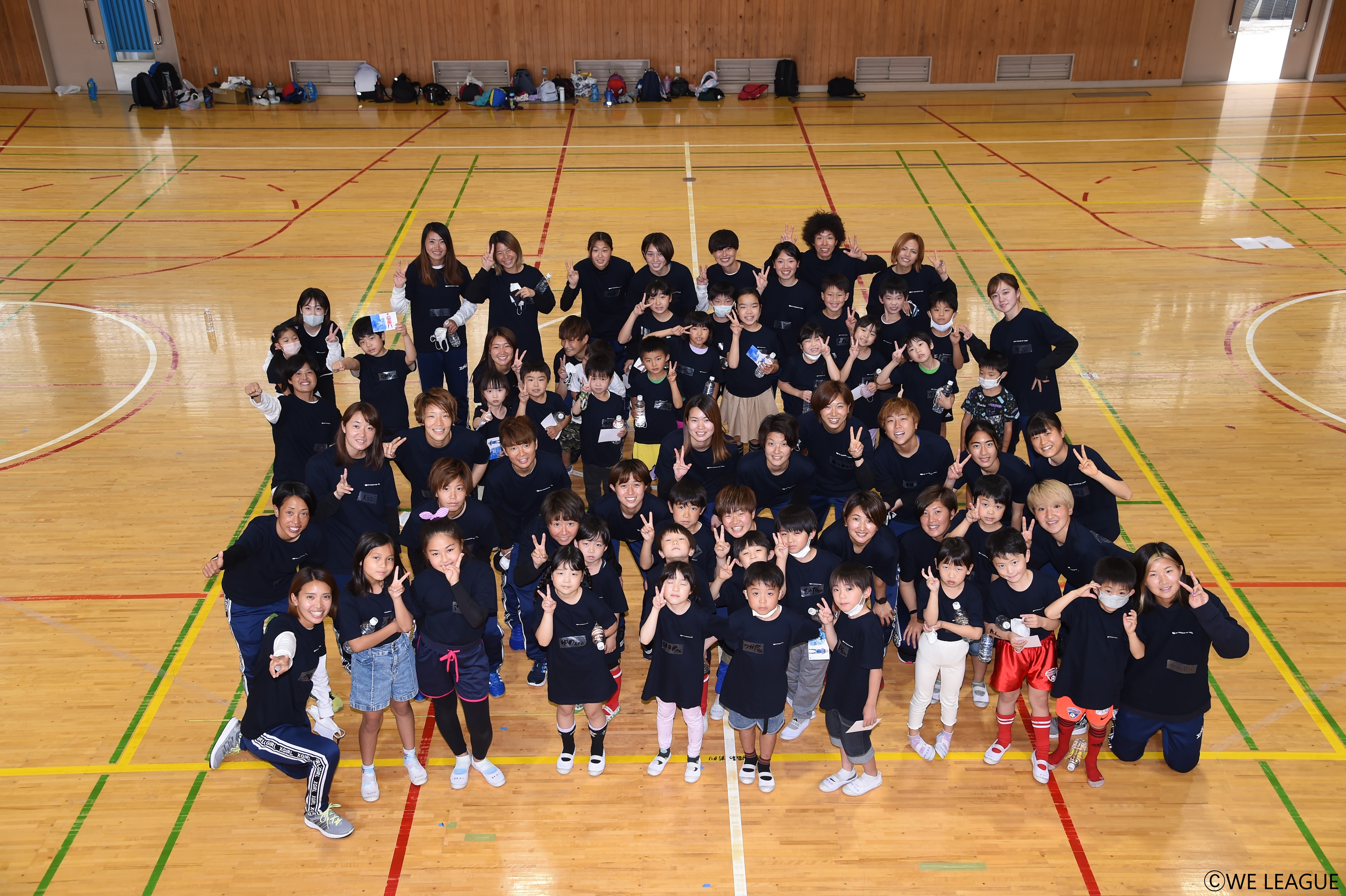 Chifure AS Elfen Saitama interacted with the local elementary school students under the theme of "Hope and Dreams for the Future of Children!" in their hometown city, Hanno. Through a talk session and program designed by the players themselves, they relayed the importance of taking on challenges to achieve their dreams.


Chifure AS Elfen Saitama interacted with elementary school students living in a children's home during their previous WE ACTION DAY. After being exposed to social issues surrounding children, the players expressed their desire to "continuously engage in activities to give courage, hope and dreams to children," which led to this program.


On May 21st, Chifure AS Elfen Saitama – through Hanno City, invited about 40 elementary school students attending two different afterschool daycares to the Fujimi Elementary School. All the participants received an originally designed T-shirt, which the players wore as well. The team logo shaped by players' autographs was placed on the back and was specially designed by Defender Miku Kojima for this WE ACTION DAY event.


Children gathered in the gymnasium and enthusiastically shouted "Go! Elfen," as they invited the 31 players on stage all at once. The audience cheered and the venue immediately came alive.


The event started with the "Elfen Show," where the players did a demonstration of their professional techniques. Midfielder Riko Yoshida lifted the ball with her toes and showed off her juggling skills, while another Midfielder Momo Miura held her posture for 10 full seconds with the ball on her forehead.


On the other hand, Forward player Asuka Nishikawa struggled showing a difficult juggling trick. As the children cheered loud for her, Forward player Eriko Arakawa, the oldest WE LEAGUER and former national team player advised, "We are only human, so we make mistakes. But it's okay. Just take a deep breath." Following that, the trick was successfully performed, and everyone raised both arms and rejoiced.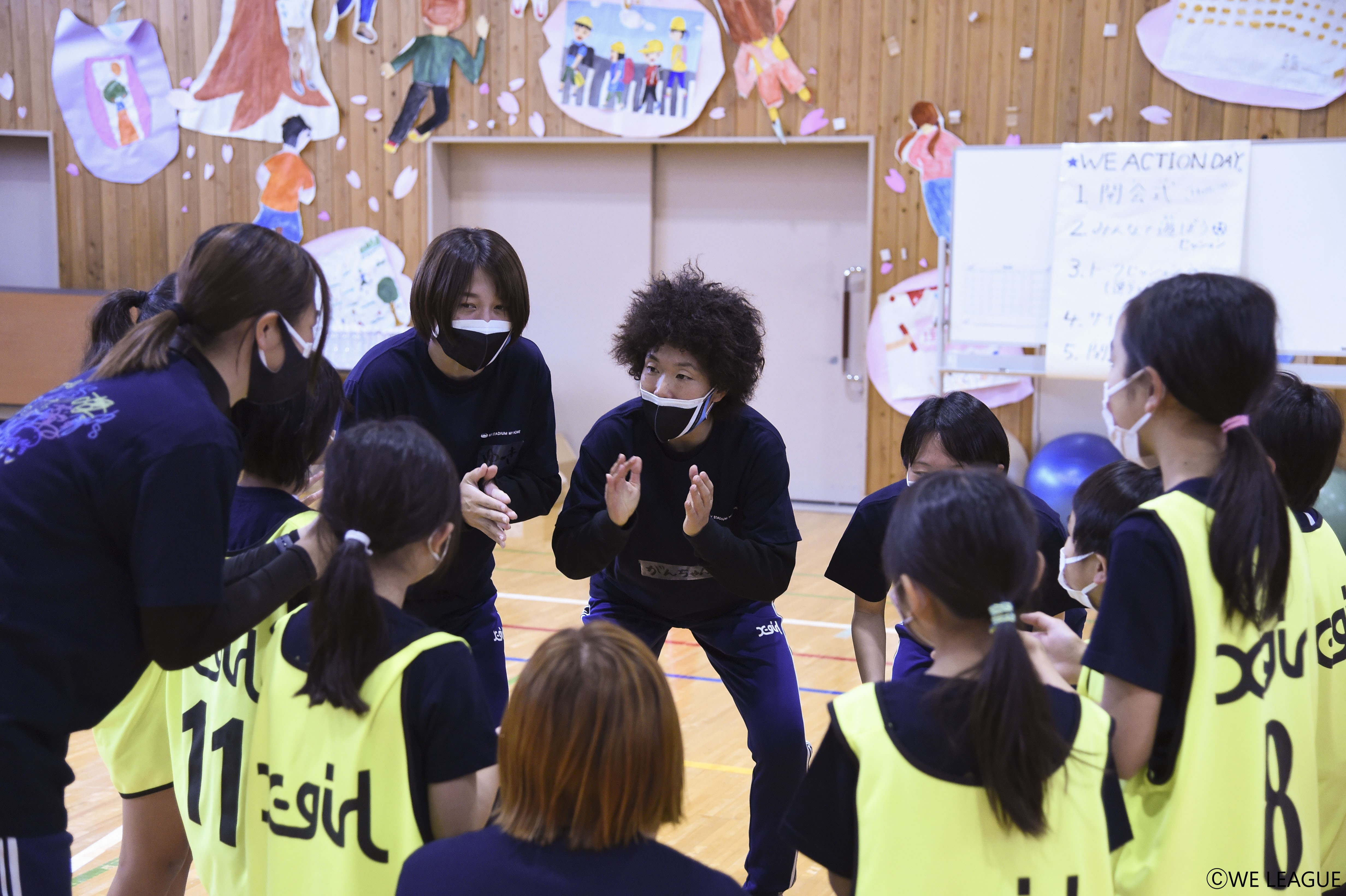 After the show, the "Play Together session" took place. Everyone was divided into five teams, and they played a few games against each other. The program was also designed by the players, and they had practiced it numerous in advance. From tail tag to rhythmic games, and a relay in which four people carry a ball on a blue mat to the goal, everyone enjoyed all the games.


At the end of the event, a talk session and group work under the theme of "It's okay to fail!" took place. The talk session was narrated by Goalkeeper Mayu Funada.


She recalled her high school days when she was surrounded by very experienced players and felt insecure and how she struggled to fit in every time she switched club teams. But on her third transition, she realized "I like challenging myself. Sometimes things go wrong because I challenge myself."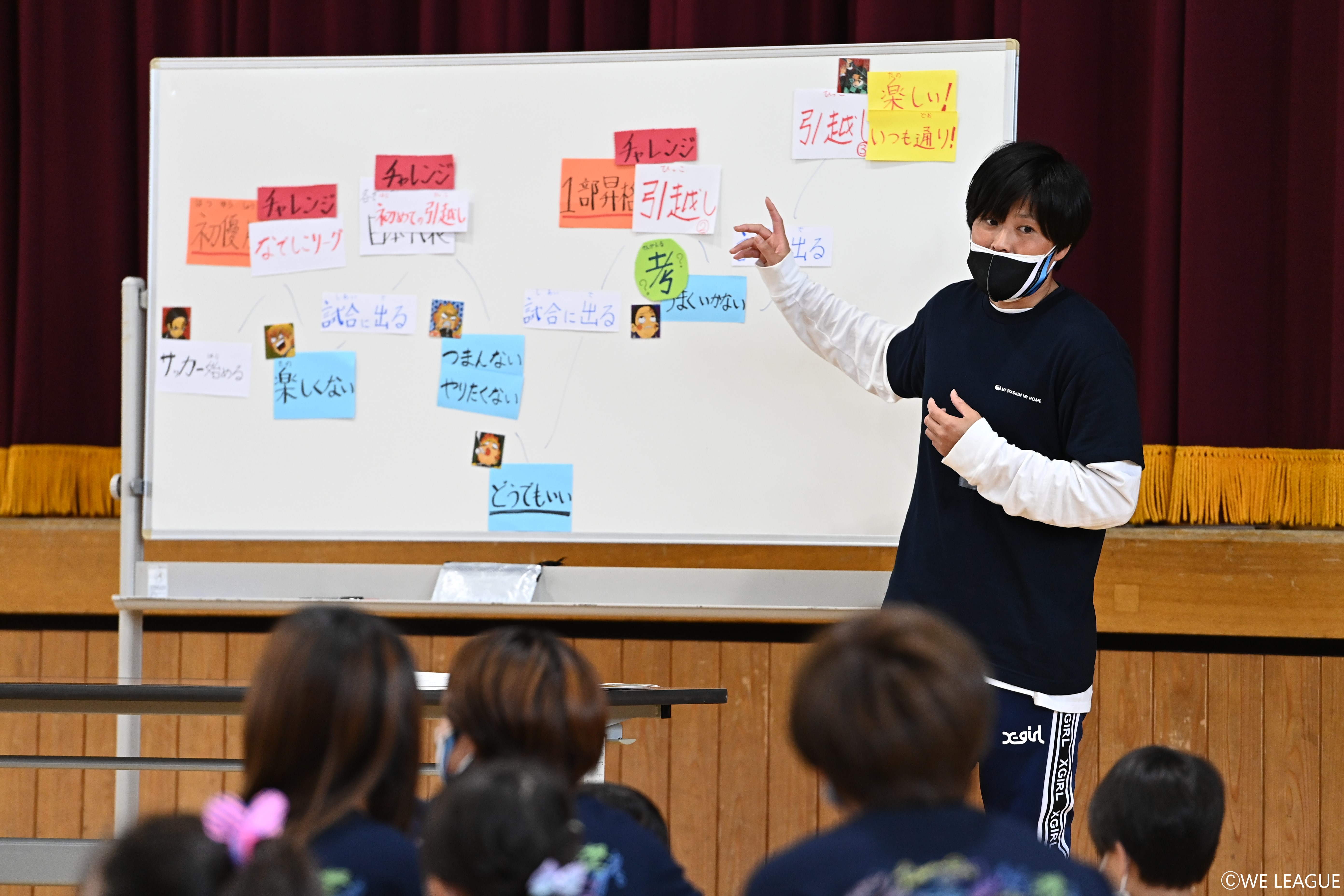 Through her experience of overcoming hardships and growing from that, she encouraged the children, "Just because things go wrong or you fail, don't think that it's bad, but rather keep challenging yourself and continue to work hard towards your dreams."


After listening to the talk session, the children discussed in groups: what they like/are good at now, their dreams, and what they can/will try to do to achieve them – and wrote them on art papers. At first, the children were shy to speak up, but when the players motivating them with comments like "nice," they became very outspoken.


Hairdresser, ballet teacher, professional bowler, Takoyaki (octopus dumpling) shop attendant.... They all spoke with confidence even in front of the crowd.


At the end of the event, they took a group photo and had an autograph session. Souvenirs from companies that sponsored this event were also handed out.


A fourth-grade participant said, "I learned that I can do it, if I don't give up," It was her first encounter with WE LEAGUERS and she said "I want to see the players in action" as she smiled with content.


Meanwhile Funada said, "Although I intended to motivate the children, I got motivated instead. The children were very proactive, and it was genuinely fun to see them participate." She added, "I would like to keep actively contributing to the community and the society. I would like to create a world together with WE LEAGUE where people think it is cool to be a football player."