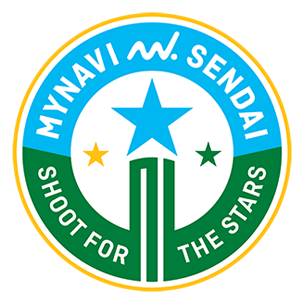 MYNAVI SENDAI LADIES
YURTEC STADIUM SENDAI/Q&A STADIUM MIYAGI
MYNAVI SENDAI LADIES's history tells a story of the club's strength and resilience. After having to temporarily close their doors due to the Great East Japan Earthquake in 2011, TEPCO's women's football club, "Malise", was able to relaunch themselves in 2012, renaming themselves as the VEGALTA SENDAI LADIES. In 2017, the club signed a title partner agreement with Mynavi Corporation, becoming the MYNAVI VEGALTA SENDAI LADIES.
In October 2020, the team officially decided to join the WE LEAGUE and renamed themselves MYNAVI SENDAI LADIES as they officially started their first professional season in 2021-22. This significant mile stone in 2021, also happened to be 10 years after the Great East Japan Earthquake.
MYNAVI SENDAI LADIES pledges to work hard to win the WE LEAGUE title and inspire people from Sendai and the Tohoku Region, as well as the whole of Japan and beyond, as they continue to etch their name into history.
SLOGAN
SHOOT FOR THE STARS
EMBLEM

COLOR

MYNAVI Blue、SENDAI Green、STAR Gold

MASCOT

Myviy
STADIUM
YURTEC STADIUM SENDAI